With Spot PC, MSPs can predictably make more money and grow their business faster.
Bring a highly differentiated cloud desktop solution to the market where customers and prospects are struggling to solve how to deliver and expand high quality remote work experiences at predictable costs.
Quickly establish and scale profitable, sticky customer relationships within the first 30 days of customer use. Start with a workgroup or department and then scale to the majority of desktops within a company. It. Just. Works.
Leverage your existing team and differentiate with your services! Move beyond just trying to get to or stay at Day 1 of desktop delivery all the time. Keep your team focused on building your business, not struggling to manage, secure, optimize and keep up with the infrastructure.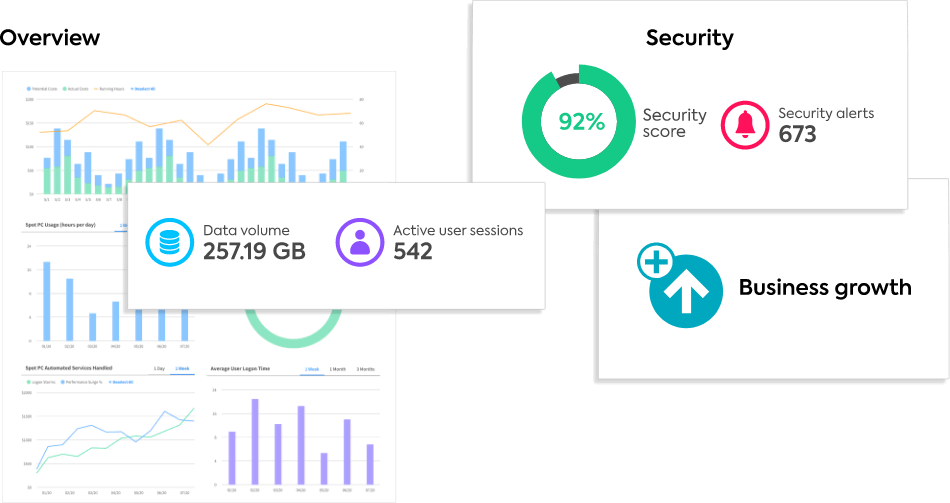 Key features
Fully-managed cloud desktops
Spot PC delivers native cloud desktops in Microsoft Azure, including Azure Virtual Desktops (AVD), utilizing AI-driven automation and optimization from Spot and NetApp to automatically place virtual desktops on the most cost-effective infrastructure.
Unified, cross-tenant management
A global view of all accounts, resources, and users under your control with secure drill-down into any tenant, at any level, to immediately troubleshoot, diagnose, and resolve identified issues.
Powerful console with rich analytic dashboards
Complete visibility across infrastructure, applications and users with by rich analytics and built-in dashboards to provide AI-driven insights into utilization, performance, and status of your entire desktop environment.
Rapid, automated deployment
Expert onboarding handles migration of user profiles, data and applications based on your requirements, reducing risk and accelerating time to productivity.
Enhanced security and protection
Utilizes enhanced security plus automatic backup, with options for automatic data discovery and classification to provide ultimate peace-of-mind.
Continuous automation and optimization
Spot PC utilizes advanced automation and predictive analytics powered by Spot and NetApp technologies that can deliver cloud desktops at more than 50% lower cost, at a fixed monthly cost per seat.