While Spot by Netapp allows organizations to reliably and affordably run production environments on spot instances, operation teams always want to be alerted about any events of interest that occur in their environment. 
Over the last 5 years, Spot by NetApp customers have been using our existing notification mechanism and have shared excellent feedback for various enhancements and new capabilities. 
Today we are pleased to announce our brand-new Notification Center which includes our customers' feedback and provides users with more control over the generation and delivery of event notifications for any cloud resources being used. 
Using Spot by NetApp's Notification Center you can create notification policies and control the following configurations within each and every one of them:
Resources – specification of  the exact list of resources to be notified on
Events – specification of the types of events  to receive notifications on
Registered users – specification of which users  will receive notifications
Integrations – specification of which 3rd party endpoints  can receive notifications (SNS,Email,etc.)
This provides increased flexibility in controlling every aspect of your notifications. For example, you can now create a notification policy for your production environment which will generate the desired notification only on production resources and delivered only to production engineering users. In parallel, you can have other policies for your staging, pre-prod etc. Every user can choose (or be assigned) to either single or multiple notification policies as relevant. 
Rule-based resource definition
With rule-based resource functionality, you can define policy rules that will dynamically generate notifications based on rule definitions.  For example, you can create a rule that generates notification on all resources that contain "Prod" in their name, tag, etc. .
This frees you from manually adding or removing resources from the policy.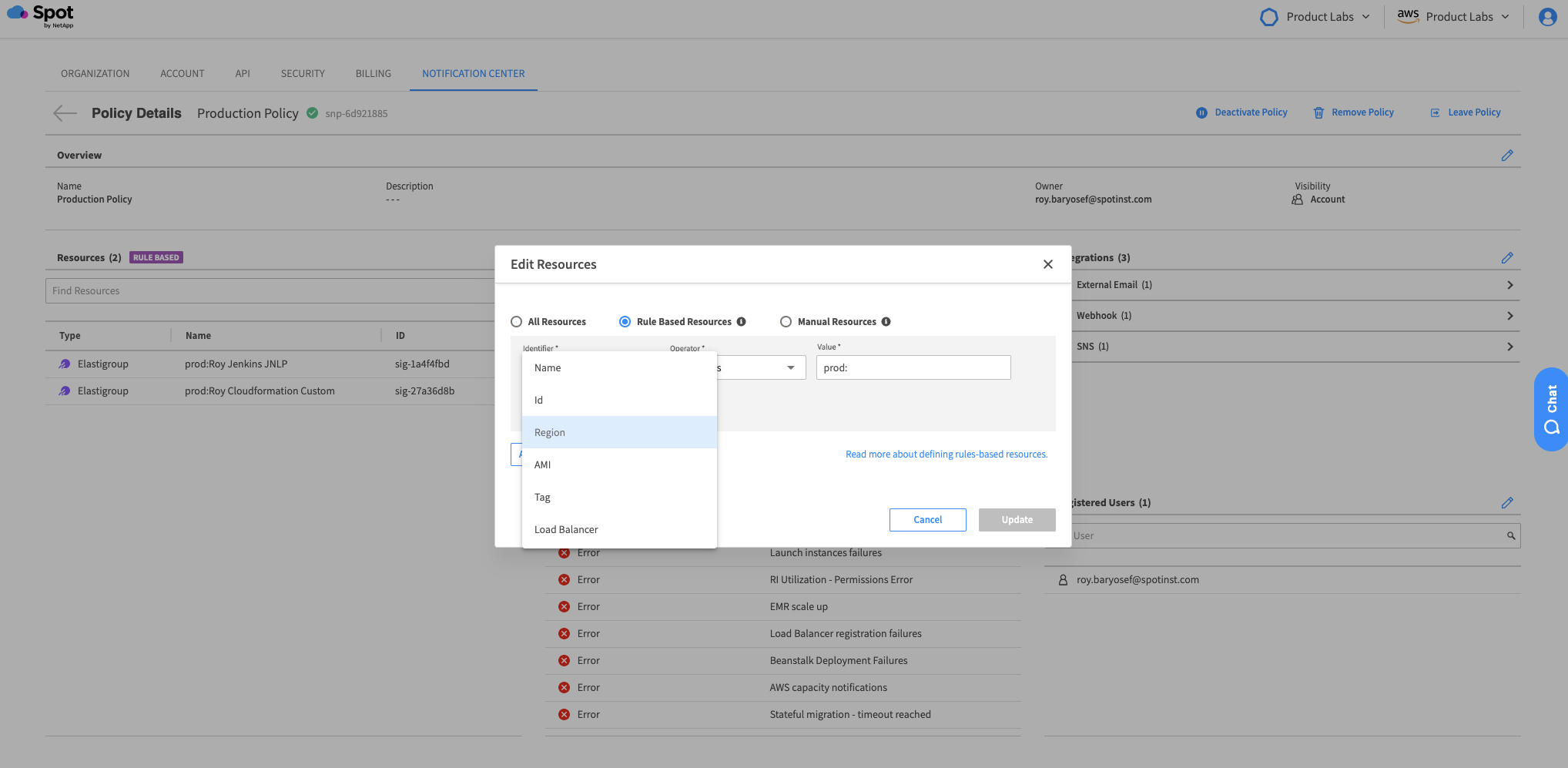 The new Notification Center is being gradually  rolled out to  all of our customers. General Availability is expected by early August but please contact your Spot by NetApp representative for earlier access.   
Getting started
To get started:
In the upper right corner of UI, click on the User icon, and then click My Account in the menu.

In the left menu, click Notification Center. The Notification Center dashboard appears.
In the upper right, click Create Policy.
You can then follow the instructions as shown in the creation wizard below. For more detailed information, please see our Notification Center documentation.