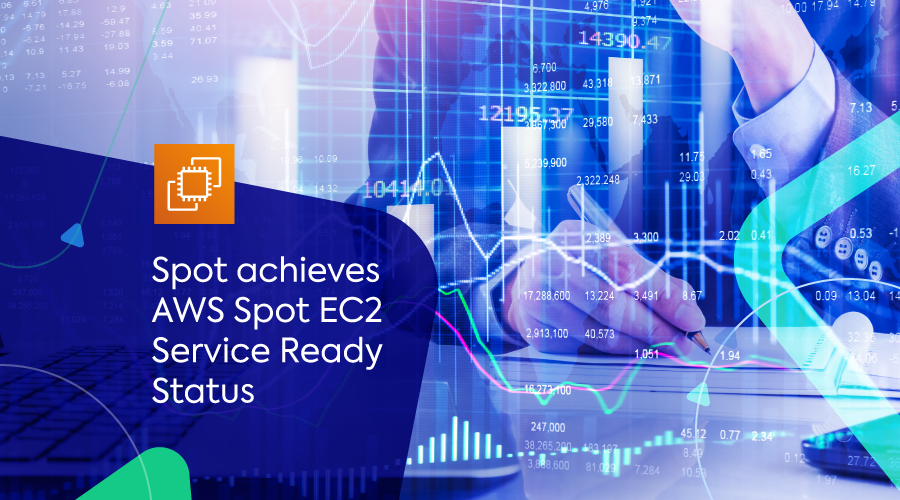 Reading Time:
3
minutes
Spot is thrilled to announce that we have achieved AWS Spot EC2 Service Ready status. This achievement validates Spot's continued commitment to delivering a reliable and seamless experience for users by leveraging AWS Spot Instances.
How does Spot by NetApp support AWS users?
Spot by NetApp is an AWS-powered and cloud-native solution that enables organizations to leverage AWS Spot Instances for their workloads. Spot Instances offer significant cost savings, allowing users to access excess compute instance capacity at heavily discounted price points. The caveat has always been that using AWS Spot Instances correctly on production workloads can require careful orchestration and infrastructure planning.
This is where Spot by NetApp comes in, helping to deliver that orchestration and infrastructure forecasting with automation. Using our proprietary machine learning (ML) models, Spot has found a way to predict the lifecycle of a Spot Instance and begin replacing instances with no user interaction. This ensures that our customers can run workloads – yes, even production level workloads – on EC2 Spot Instances without experiencing outages or instance interruptions.
But this doesn't just cover traditional AWS Instances. It also applies to the EC2 instances used with AWS EKS and ECS services and can benefit customers who are using Kubernetes-driven workloads, just like users who use traditional virtual machine instances.
What is the AWS Spot EC2 Service Ready Designation, and how does it benefit our customers?
The AWS Spot EC2 Service Ready status is a validation program that recognizes software solutions that have a demonstrated seamless integration and optimization specifically for AWS Spot Instances. Achieving this designation shows that Spot by NetApp has met the stringent technical requirements set by AWS and ensures a reliable and efficient experience for our customers.
The benefits for Spot by NetApp customers include:
Workload optimization
Spot by NetApp provides users with advanced workload optimization. We analyze historic Spot instance markets and can predict interruptions with up to 95% accuracy and automatically orchestrate workloads to ensure your applications stay online. This proactive approach ensures your Virtual Machine or containerized applications continue to run smoothly even in the face of Spot instance interruptions, providing an experience that is built to ensure your workloads stay online.
Scalability
Spot by NetApp simplifies the management of Spot instances at scale. With features like automated provisioning, intelligent workload placement, and a seamless integration with AWS EC2 and container services, customers can easily add or remove resources, and ensure scalability and elasticity for their workloads without worrying about overprovisioning on-demand resources.
Cost savings
Spot Instances can help AWS users save up to 90% on their compute compared with paying on-demand rates. Spot by NetApp helps users seamlessly manage these instances by ensuring full optimization and enabling organizations to maximize their cloud workloads at the lowest possible price per compute unit without compromising performance.
Automation and visibility
Spot by NetApp's advanced automation and observability features empower CloudOps teams to understand their cloud infrastructure. "What is running?" "Who ran it?" "Where is it hosted?" "How much is it costing us?" These are questions you no longer have to ask, as we give comprehensive visibility into utilization, cost breakdowns, and performance metrics to enable data-driven decisions and help drive infrastructure optimization further.
Achieving the AWS Spot EC2 Service Ready status is a testament to Spot by NetApp's commitment to providing a seamless and reliable experience for users leveraging AWS Spot Instances. With Spot, users can unlock the full potential of Spot Instances, gain significant cost savings, achieve scalable architectures, optimize workloads where they are running, and benefit from the enhanced level of automation and visibility that will enable DevOps and Platform teams to innovate and provide strategic solutions. We are excited to continue empowering our customers to leverage Spot Instances effectively and drive high performance and cost-effective workloads on AWS.
Get faster, more reliable, and more efficient cloud operations
Learn how the Spot by NetApp portfolio of products meets the evolving needs of the modern CloudOps organization. And if you are going to be in Las Vegas for AWS Re:Invent 2023, come by our booth to discover how you can reliably, securely, and efficiently operate infrastructure and deliver applications in the cloud.