Reading Time:
2
minutes
The Spot by NetApp portfolio has again been recognized as a leader and outperformer in the GigaOm 2023 Radar for Cloud Management Platforms (CMPs). This industry analyst report highlights key CMP vendors whose primary purpose is to help organizations manage the increasing complexity of cloud environments and control costs more effectively.
Highlighting the Spot by NetApp portfolio's strengths, GigaOm states that "The combination of CMP, resource optimization, and FinOps place Spot in a leadership position for end-to-end cloud management and optimizations." Read the report now.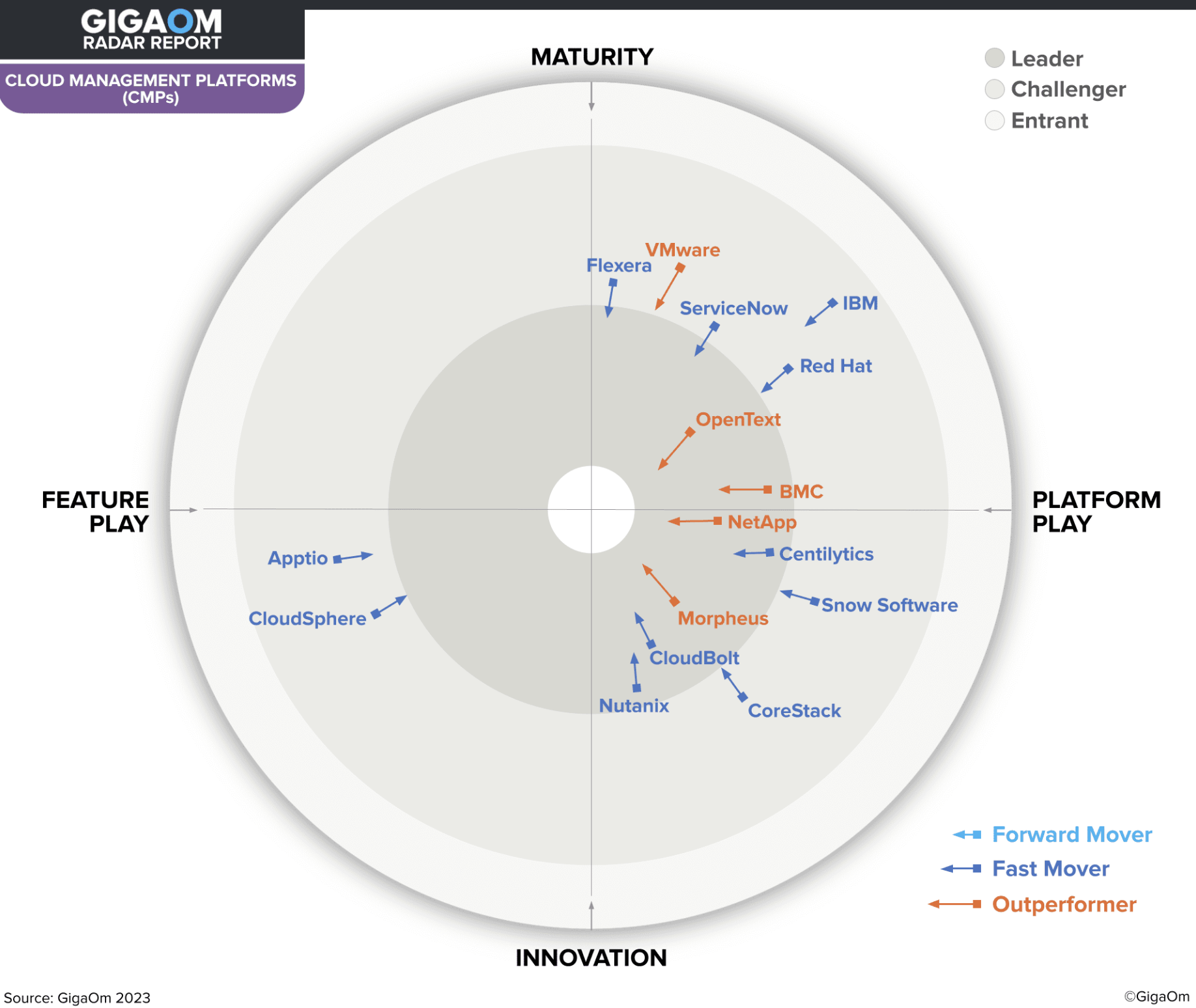 Continuing to excel in cloud management and FinOps
This isn't the first time that Spot by NetApp's CMP products have received high marks from GigaOm. GigaOm's 2021 Radar for Cloud Management Platforms named Spot by NetApp's CloudCheckr cloud management solution a leader and outperformer, too! The report acknowledged that "CloudCheckr has a strong security focus for highly regulated industries and governmental organizations," and has "excellent features for managed service providers, including showback billing for larger organizations."
At that time GigaOm also commented on the then-recent acquisition of CloudCheckr by Spot by NetApp, observing that "The movement of CloudCheckr into the Spot brand and products adds the power of NetApp and its partners along with a broader range of leading capabilities." This assessment was certainly proven and validated in the 2023 CMP Radar!
In addition to the 2023 Radar for CMPs, GigaOm also named Spot by NetApp a leader and outperformer in the 2023 Radar for Cloud FinOps. The report highlighted Spot's strengths: "Integration with a wider suite of cloud management and automation tools places the Spot portfolio in a position to respond to new and evolving market needs. NetApp ranks high on most key criteria and evaluation metrics." Access the report here.
Completing the trifecta for 2023, Spot by NetApp was recognized as a leader and fast mover in the 2023 GigaOm Radar for Cloud Resource Optimization, stating that "Spot by NetApp encompasses many capabilities that organizations may desire for optimization of cloud resources and is famously known for continuously determining the most cost-effective resource type to deploy applications to." Read the report here.
One spot for CloudOps
The Spot portfolio enables enterprises, SMBs, and MSPs to deliver and operate infrastructure for cloud applications rapidly, reliably, and at scale with maximum efficiency and continuous optimization. Get an overview of our solutions and a demo today.