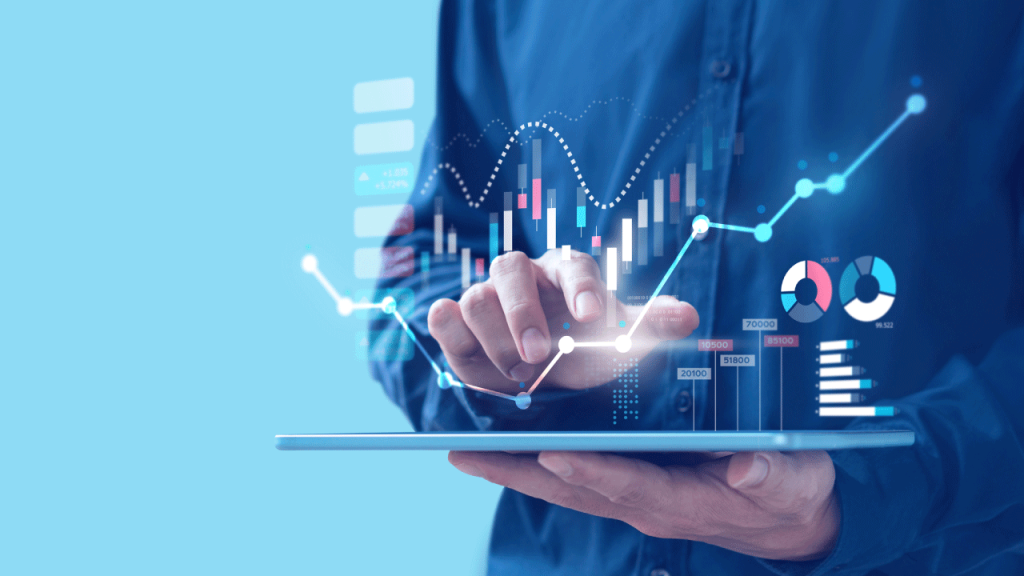 Reading Time:
4
minutes
Cloud transformation is a key initiative for organizations, whether they're already fully in the cloud or heading there in the future. Yet the question remains: how can they get the support they need on their cloud journeys?
The 2022 Cloud Infrastructure Report, sponsored by Spot by NetApp and conducted by Dimensional Research, aims to answer this question and more. The report is based on an online survey of cloud infrastructure stakeholders working at companies with more than 500 employees. A total of 305 qualified individuals in IT or business completed the study. All had decision-making responsibility for significant public cloud infrastructure investments. Specific questions were repeated from similar 2017, 2019, and 2021 studies (previously presented by CloudCheckr) to investigate changing trends. 
The report explores three major findings in cloud trends:
In this post, we'll explore the third finding: how MSPs are guiding enterprises' cloud operations and providing guidance around FinOps.
Organizations working with MSPs for cloud operations see the benefits
Managed cloud operations are core services offered by many MSPs. For this survey, we defined a managed service provider as an external vendor that delivers continuous, SLA-backed, active management, maintenance, and support of cloud infrastructure, networking, security, and/or application environments. 
Managed service providers can help companies by offering a holistic approach to their cloud financial management — using their clients' cloud budgets efficiently, continually optimizing cloud spending, and driving the cloud's business value over time.
According to the survey, 71% of respondents said that they rely on an MSP for some portion of their cloud operations. However, just 12% rely on their MSP for leadership in their cloud operations.
All companies that work with an MSP reported that they benefit from the relationship. Choosing all options that applied to their company, respondents said that they saw benefits from their MSPs, and none reported "no benefits."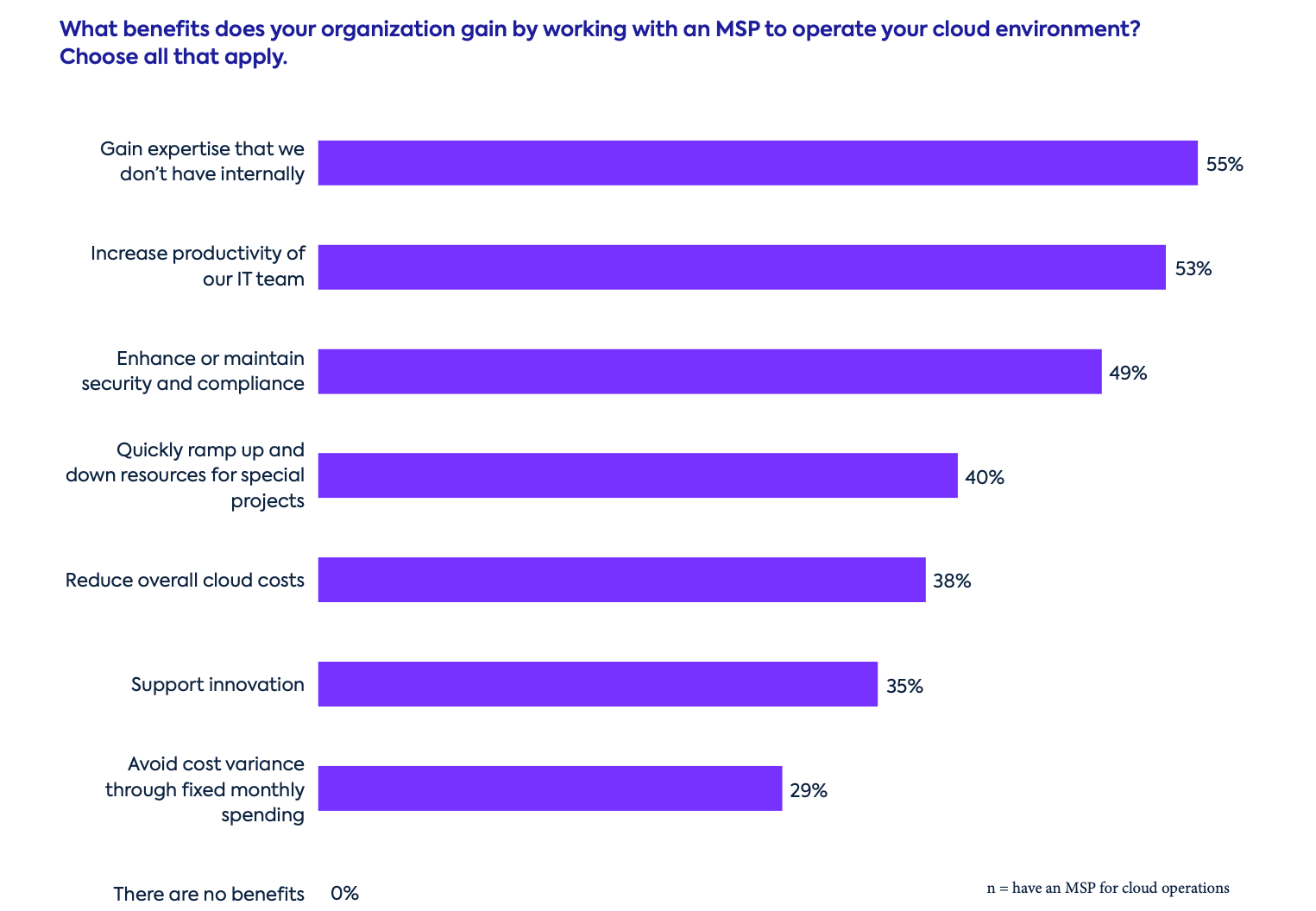 By partnering with an MSP, enterprises saw top benefits, such as:
55% gain expertise that they don't have internally

53% increase the productivity of their IT team

49% enhance or maintain security and compliance
Other advantages included being able to quickly ramp up and down resources for special projects, reducing overall cloud costs, finding support for innovation, and avoiding cost variance through fixed monthly spending.
The study also found that when MSPs take a greater leadership role in operating their clients' cloud environments, the customer receives higher levels of benefits. Most notably, when the MSP takes the lead, these percentages jump to 72% of companies gaining enhanced security and compliance (up from 49%), 53% reducing overall cloud costs (up from just 38%), and 50% finding support for innovation (up from 35%).
The value that enterprises see, however, is split from the perspectives of executives, team leaders, and individual contributors and across organizations of different sizes. While very few respondents overall rated their MSP as not at all valuable, executives and respondents from organizations with 500 to 1,000 employees were more likely to rate their MSP as "very valuable." A full 29% of executives and 25% of respondents from the smaller organizations gave this answer.
MSPs can play a key role in FinOps
As we discussed in part two of our summary series, FinOps is a method that helps organizations align cloud adoption and investment with business strategy to promote enterprise-wide accountability. While 96% of survey respondents believe that FinOps is an important part of cloud cost management, just 10% admit that they have a mature FinOps practice in place.
Fortunately, this is one area where MSPs are able to step in. Among companies that have adopted FinOps and have an MSP, 83% say their approach includes the involvement of the MSP. 
This level of involvement varies, with nearly half (45%) reporting that their internal team takes the lead in FinOps strategy while getting support from their MSP. An additional 18% rely on their MSP to take the lead, 13% collaborate in a joint effort with their MSP, and 7% outsource their overall FinOps practice to their MSP.
Cloud transformation: You get out of it what you put into it
If there's one takeaway from the 2022 Cloud Infrastructure Report, it's this: cloud transformation success is heavily dependent on the amount of effort that organizations put forth.
Creating a Cloud Center of Excellence (CCoE) that pools and focuses on their internal skills and resources is one way to increase their cloud management expertise. When a CCoE is combined with dedicated MSPs for cloud operations, enterprises can go deeper into their cloud journey, bring methodologies like FinOps into practice, and often gain a more well-rounded approach to their cloud transformation projects.
Ready to see all the statistics we collected on cloud transformation? Download the full report to examine the current experiences with public cloud infrastructure and the approaches used today to deliver the most significant value from these investments.