VTEX Enjoyed Large Reserved Instance Investment, but Pursued Better Utilization and more Cost-Efficient Scaling
VTEX was always conscious of cost-efficiency, and as such invested heavily in reserved instances (RIs) to ensure consistent and long-lasting capacity at a reduced price. But acquiring a large amount of RIs wasn't the end of their cost-efficiency journey. Two things remained an issue:
Underutilized RIs – Purchasing a large amount of reserved instances guaranteed capacity at reduced costs, but didn't guarantee that all reserved instances would be fully utilized across VTEX's many accounts and environments.
Cost efficient scaling is difficult on RIs alone – VTEX's environments needed to be able to scale up and down to meet their demands. This is difficult to do on RIs alone, as the scaling means that VTEX would either have to purchase a great deal of RIs which would not be fully utilized at all times or else scale up using on-demand Instances, therefore reducing cost efficiency.
Spot Helps VTEX Fully Utilize their RIs whilst Scaling Robustly on Spot Instances
Elastigroup by Spot enables VTEX to fully utilize their RI investment as the solution discovers unutilized RIs in VTEX's AWS and, if detected, makes sure to utilize these instances as a first priority. Next, Elastigroup by Spot will scale the rest of the cluster on spot instances, meaning that both reserved and spot instances can be used within the same cluster.
This means that VTEX's environments running on Spot were ensuring both the best RI utilization and also populating the rest of the group with cost-effective spot instances. Not only were VTEX's RIs being fully utilized, they were being utilized automatically with no extra demands on the DevOps teams.
Simple Elastic Beanstalk Migration Results in VTEX going from Never Using Spot, to Running Spot in Production in Two Days
When RealCloud, Spot's trusted partner in Latin America, learnt of VTEX's issues they immediately recommended Elastigroup by Spot. VTEX had never used Spot before Elastigroup, as they were all too aware of the inherent risks and management issues which usually come with spot instances.
"In the first presentation of Spot, VTEX decided to initiate the trial immediately, and after 20 minutes they had connected all their development environment instances to run on Spot. Since this process, there hasn't been a single interruption. It was amazing how fast and secure it was," said Silvio Pereira, RealCloud CEO.
After the success of this initial PoC, the results were both so immediate and so compelling that the VTEX team wasted no time in getting their production accounts running on Spot.
"After we checked out the platform for a couple of days, we were confident enough to have our Production Beanstalk environments running spot instances. We haven't looked back since!" – Carlos Monteiro, Senior Product Manager, VTEX
Due to the fact that Elastic Beanstalk environments are dependent on their provisioned resources (i.e. CloudFormation, ELB and ASG), it is necessary to keep those in place and integrate with the underlying ASG. Once the Elastic Beanstalk integration is configured, Elastigroup takes control of the automatic actions and decisions made regarding instance provisioning, scaling and deploying.
With this completed, Elastigroup by Spot is now able to run Elastic Beanstalk environments on Spot, VTEX simply selecting the option to "Utilize reserved instances" to make sure that their RI commitment was being utilized as well.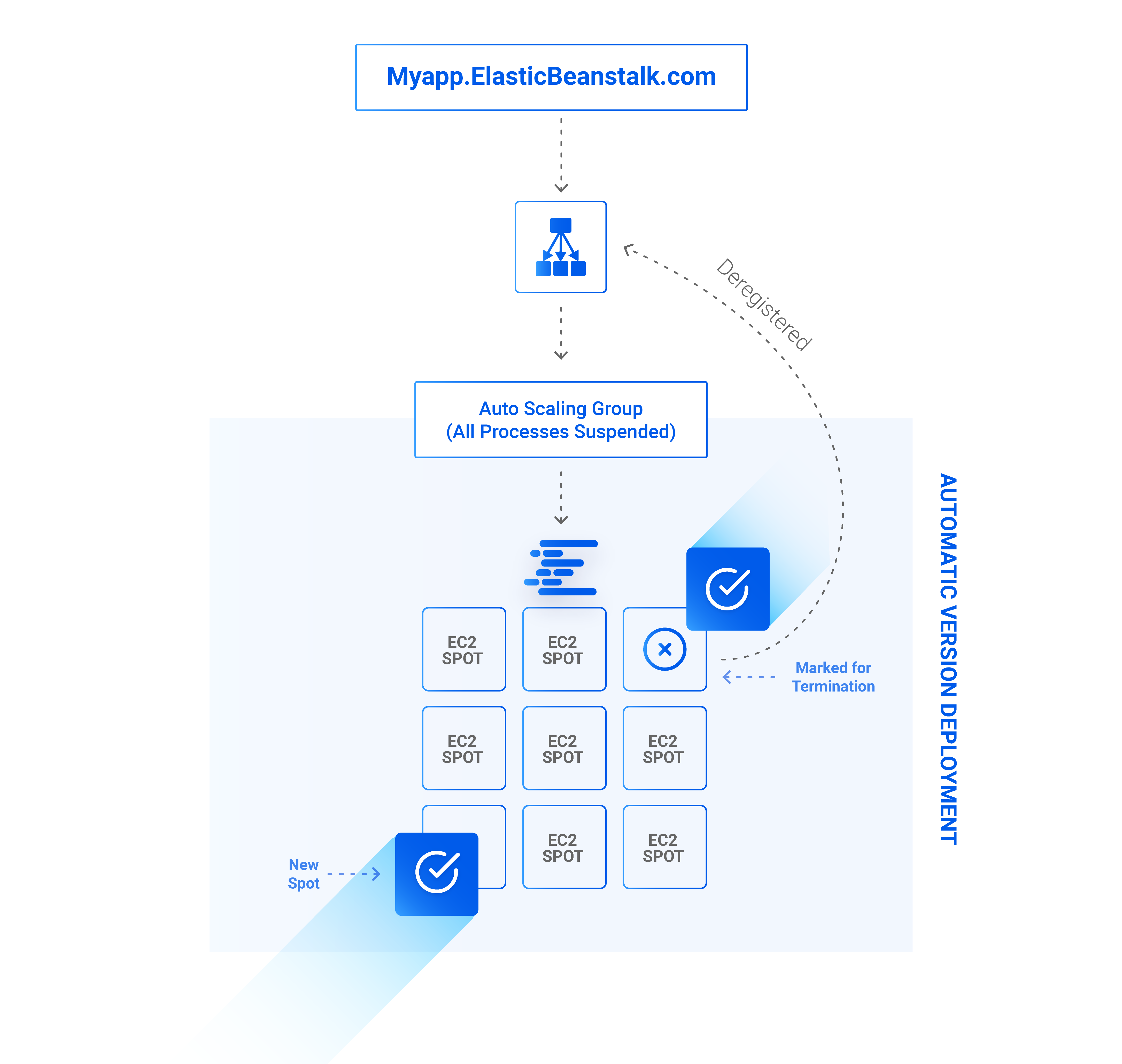 You can find out more about our Elastic Beanstalk in-ASG integration here
Kubernetes next on VTEX's Roadmap to run on Spot
With all of VTEX's Elastic Beanstalk environments currently running on Elastigroup by Spot, the next environments to move over are Kubernetes. "Kubernetes is very strategically important for VTEX and the Spot MCS feature makes moving Kubernetes over to Elastigroup by Spot not only appealing for savings," said Carlos, "but also for helping my developers reduce the demands on their time. We can't wait!"

VTEX is tomorrow's commerce platform for today. Their SaaS e-commerce platform offers all the technology retailers need to sell online. With VTEX, top companies such as Bosch, SONY, Coca Cola, LEGO, Levi's, Nespresso, Ambev and more have created beautiful and intuitive online stores. With an average of 50 deploys per day, VTEX is ready to keep adding amazing companies to their impressive portfolio!
https://www.vtex.com/