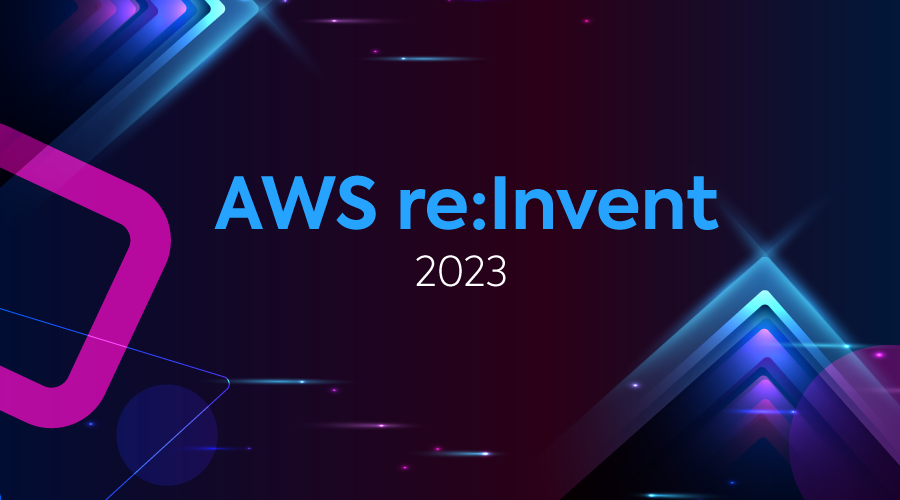 Reading Time:
7
minutes
Welcome back to the craziest week in cloud computing. It's hard to believe a full year has passed, and we are now all packing our bags and getting ready to head back to Las Vegas for AWS re:Invent 2023.
This year there will be you, me, and 65,000 or so of our closest cloud computing colleagues. With plenty of interesting sessions, bootcamps, hackathons, and vendor parties, re:Invent has something for everyone culminating with the re:Play event on Thursday evening to blow off some steam with live music and food.
Are you heading to re:Invent? How best should you take it in? How can you get the most out of the conference, while ensuring you have the information you need for your strategic plans in the AWS cloud? Here is a quick guide you can use to get the most out of your attendance at the show:
1. Consider your goals and learning objectives for re:Invent
As you're preparing to go, here are some things to take into consideration:
Why are you attending? AWS re:Invent is a big commitment for anyone going. Outline the goals you have for yourself and your organization.
What do you want to learn? Are you looking for new tools? Are you looking to solve specific problems? Are you looking to grow or expand service usage in specific ways? Write these down and search the session catalog for appropriate topics and areas of interest, or filter sessions according to your role and industry. (See the attendee guides if you have trouble

getting

started.)

What are you expected to bring back from the show for your team or peers?
2. Think strategically about your networking opportunities
Keeping these goals in mind, how do you deliver the results?
New this year, in the AWS Events App and the online portal, is Peer Talk, where you can pre-schedule meetings with other attendees, sponsor representatives, and AWS service and program experts, including employees, AWS Heroes, and AWS Community Builder program members.
These ad-hoc meetings can help build the network of other attendees and contacts within the AWS community and services you use. This can also make it easier to determine what vendors you want to make sure you see on the expo floor. Let's be honest, trying to walk the expo and meet every vendor is next to impossible, both for you as a person and the amount of marketing email you are about to get with every badge scan.
You can also schedule time to meet with Spot by NetApp. Come visit us at Booth #950 and book a meeting with us here. 
3. Pack and plan accordingly
It is the twelfth year of the conference and my ninth time attending, and every year, the re:Invent campus seems to get bigger. While public transportation is available along the Strip, there's a good chance you'll need to walk from one venue to the next to make your next sessions on time. What better way to get a post-holiday workout than by walking the conference? Last year at re:Invent, I walked 112,000 steps over the entire week, which brings me to my most important tip: Wear comfortable shoes. Yes, comfortable shoes are always my first recommendation to anyone when they mention they will be attending re:Invent in person. That being said, as you choose your sessions, plan accordingly to ensure you'll have enough time to travel between Point A and Point B.
(First time at the conference? Be sure to read through my handy checklist for re:Invent newbies below!)
4. Learn collaboratively
Learning is so much easier when you can do it with a group of friends, old and new! AWS re:Invent is a great place to build new friendships and catch up with old ones. Join hackathons, boot camps, and sessions that give you some kind of hands-on-keyboard experience. These sessions allow you to experiment in a safe and controlled environment and learn from others and their unique experience.
5. Use social media to stay informed and network
Traditionally the re:Invent hashtag for social media has been #reinvent and #reinvent23. Follow these, find what is going on and where, share your experience, and use it to meet others who are there.
6. Stream the keynotes (or get in line early)
The keynote sessions at re:Invent are great. But queuing up early in the morning and missing breakfast, sessions, or networking opportunities isn't great. You can stream the keynotes as they happen and use that free time to find other interesting sessions, grab a bite to eat, or network. The stream will also help you get to the sessions faster without waiting for the keynote audience to filter out.
If you do decide to attend the keynotes, get there early! The keynotes have an audience cap, which doesn't seem possible until you factor in the fact that there are over 65,000 people who want to see some or all of the keynotes. So get there early (i.e., as soon as the convention center opens-early).
My recommendations for keynotes not to miss:
Peter DeSantis, Senior Vice President of AWS Utility Computing: His keynote usually focuses on the behind-the-scenes tech announcements for the compute platforms and introduces new instances and storage classes.
Dr. Werner Vogels, VP and CTO of Amazon.com: He is always the can't-miss keynote, with deep dives into the new service offerings. He also discusses the new and innovative ways to leverage your AWS environment and services. Plus, he has great taste in music, and he has a unique presentation style that weaves real-life stories and big-picture ideas into the technology he is talking about.
7. Choose your sessions early for a chance to meet AWS experts
As I've mentioned, re:Invent is a big conference, and space is limited in every session. Make sure to book your sessions early so you have the chance to meet with AWS experts.
You will find that all the presenters of sessions, boot camps, hackathons, and lightning talks are very approachable and want to talk more about their area of expertise. They love to dive deep into their topics and sessions, so you can connect with them after and make that connection as well.
Spot by NetApp will be at re:Invent, and we'd love to meet with you! Come say hi to us at our session:
COP344-S How automating cloud operations accelerated time-to-market at NU: Monday, Nov 27 @ 4:00 PM, Caesars Forum Level 1 – Forum 21
8. Remember to view the sessions via video
Many of the breakout sessions are recorded, so watch the video instead of trying to take notes by hand. But if you are taking notes, use a pen and paper, which is so much easier than trying to wrangle a computer or tablet and get it set up before the session begins. Also take pictures of the slides using your phone and annotate them!
9. Hit the AWS Certified Lounge and Reception
Quiet places where you can take a load off and relax are in short supply at the Venetian. But if you have an AWS Certification, there is a (not so) super-secret lounge where you can access exclusive AWS Certified swag, snacks, places to sit, and, most importantly, charge your tech gear! I highly recommend it as a refuge from the madness of the rest of the week.
A checklist for the first-time attendee (and helpful reminders for everyone)
Since this will be my ninth re:Invent, I am passing on some hacks I have found to make my conference more successful.
Phase 1: Prep Work
Plan your conference. Use the AWS Events app on iOS or Android and the Web Portal to start planning your sessions. There is even a QR Code inside the app to speed up the check-in. And remember you will need to show a government ID to the friendly staff as they print off your badge.
Bring some headphones. Especially if you are expecting to take calls and do some work during the show. You'll be so much more effective if people can hear you talking, and it also helps to drown out the noise.
Dress for cooler fall weather. No, you won't need your winter ski jacket or snow pants, but make sure you have a light jacket (or maybe a re:Invent hoodie). The Las Vegas nights get cold, but it is still the Desert Southwest.
No, really – pack comfortable shoes. I know we discussed comfortable shoes above, but I am doubling down. You will want some comfortable sneakers. It's all fun and games until the end of the night when you have to go to dinner or a vendor event, and your feet are on fire and angry because you wore the wrong shoes.
Phase 2: Pre:Invent
Take a taxi over an Uber from the airport. It used to be that the way to get from Las Vegas Airport to the Strip was via Uber. However, taxis are usually: 1. faster, 2. right outside the terminal, and 3. believe it or not, cheaper.
Check in to the conference ASAP. When you arrive in Las Vegas, the Las Vegas airport, as well as several of the hotels on the Strip, will have check-in stations where you can get your show badge. That way, when you make it over to the main conference at the Venetian, you can pick your re:Invent swag, hoodie, and pins without having to feel pressured and waiting to check in.
Stock up on supplies when you arrive (or pick up what you forgot to pack). There are several Walgreens and CVS stores near the re:Invent hotel complex. My conference go-tos are always:
Chapstick
Cough drops
Hand sanitizer
Eye drops (especially if you wear contacts)
Snacks (so you won't spend a fortune on the mini bar in your room)
Phase 3: Showtime
Prepare for the crowds. AWS re:invent is a massive undertaking. There is security, and they will occasionally search your bag. Don't give the security team a hard time; just open your bag and move along. They are there to help keep the thousands of conference attendees safe.
Consider investing in earplugs. One of the hardest things about re:Invent is the constant noise. With DJs spinning electronic dance music in and around the expo and just the acoustics of Las Vegas and the expo center in general, I recommend some noise-dampening earplugs. Like the ones you would use at concerts or other live events, these earplugs will filter out "the hum" of the show but still allow you to converse and interact with others, and it makes it easier to hear someone when you have these earplugs in because they filter out background frequencies.
Visit the Expo. Not only is it where all the vendors will be, but it is also a way to interact with teams from specific AWS services and partners. There are also social areas where you can grab some espresso or tea and have impromptu meetings.
Find Lightning Talks. The Lightning Talks around the re:Invent expo are some of the most useful and interactive in my experience. Despite the short lengths, it is a great format to get exposure to solutions you may not have been aware of or find new ways to use them.
Blow off steam. Right outside the expo hall, there are various options designed to promote relaxation. There is also a new re:Invent rec center in Mandalay Bay, bringing table tennis, pickleball, and AWS-powered sports experience in one space. There is even a tattoo and piercing setup where you can permanently etch your love of AWS and AWS Services onto your skin. And make sure to consider attending re:Play on Thursday night. This live concert and party experience has food, fun activities, and music for different tastes on multiple stages. And yes, there is even yet another limited-edition t-shirt you can snag just for attending.
And finally, make sure to visit Spot by NetApp at Booth #950 on the Expo floor. You can learn all about how our deep partnership with AWS continues to grow and how our Cloud Operations offerings can help you reliably, securely, and efficiently operate on AWS and deliver applications in the cloud.
Have fun at re:Invent 2023, and we can't wait to see you there!