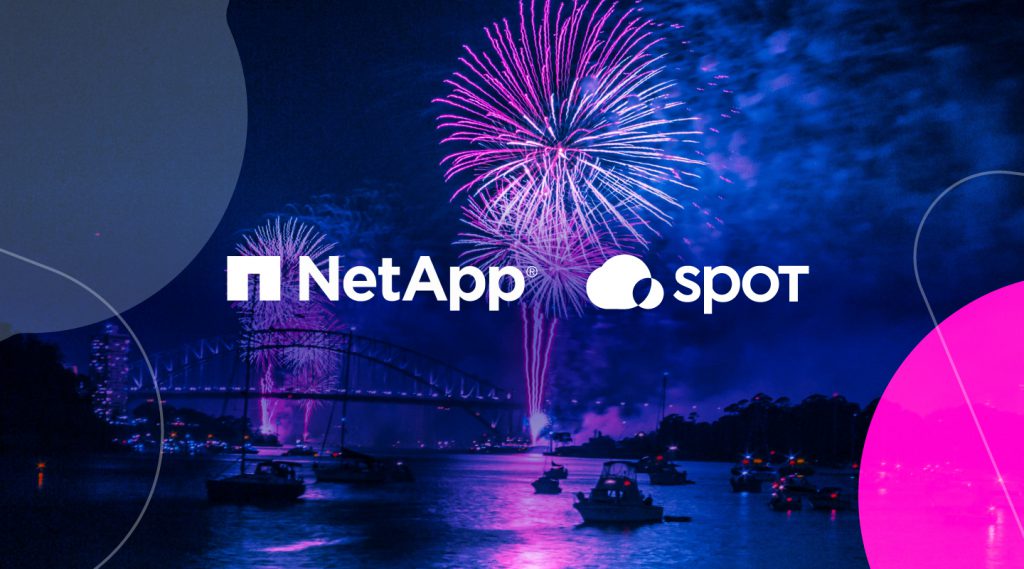 Reading Time:
4
minutes
Since founding Spot five years ago, I've lost track of the number of conversations I've had with other companies who wanted to talk about their vision of where the market is going and about working together. Most of those conversations were not particularly memorable.
However, several months ago I was introduced to Anthony Lye, the SVP of NetApp's Cloud business. The first meeting that I had with Anthony eight months ago was one that I immediately knew I would not forget. Not knowing what to expect when I got to NetApp's headquarters, I left extremely impressed and excited by the discussion. I remember thinking to myself that out of all ISVs and companies that I had met in the Cloud Infrastructure space, NetApp really has the most compelling story and long term vision of what is needed to be a company that matters in the cloud. Hearing him describe his vision of how to provide customers valuable and differentiated automation, agility and optimization on top of the public cloud platforms revealed a unique similarity between NetApp's approach to storage management and Spot's approach to compute management in the cloud.
Shared approaches across compute & storage
The similarity I recognized goes to the fundamental technologies created by NetApp and by Spot. If you think about it, the biggest problem that NetApp has been solving as a company since its beginnings is making it possible for organizations to trust technology that previously could not be trusted–NetApp delivers intelligent software that manages data on disk to deliver reliability, performance and lower costs. A disk could be damaged or replaced, but the software will make sure the data is stored on RAID and that it has the right snapshots and backups so that it will always be there, even in case of failures.
If you think about it, that is exactly the problem Spot has solved since inception, but in our case for compute. Our cloud cluster software promises developers and DevOps engineers that they can trust the software layer rather than trusting individual Cloud virtual machines or instances–an instance can be replaced (due to a failure, health check or spot price interruption), but our software is there to maintain high availability for applications, quietly and continuously making adjustments to compute resources while ensuring customers' SLAs and SLOs.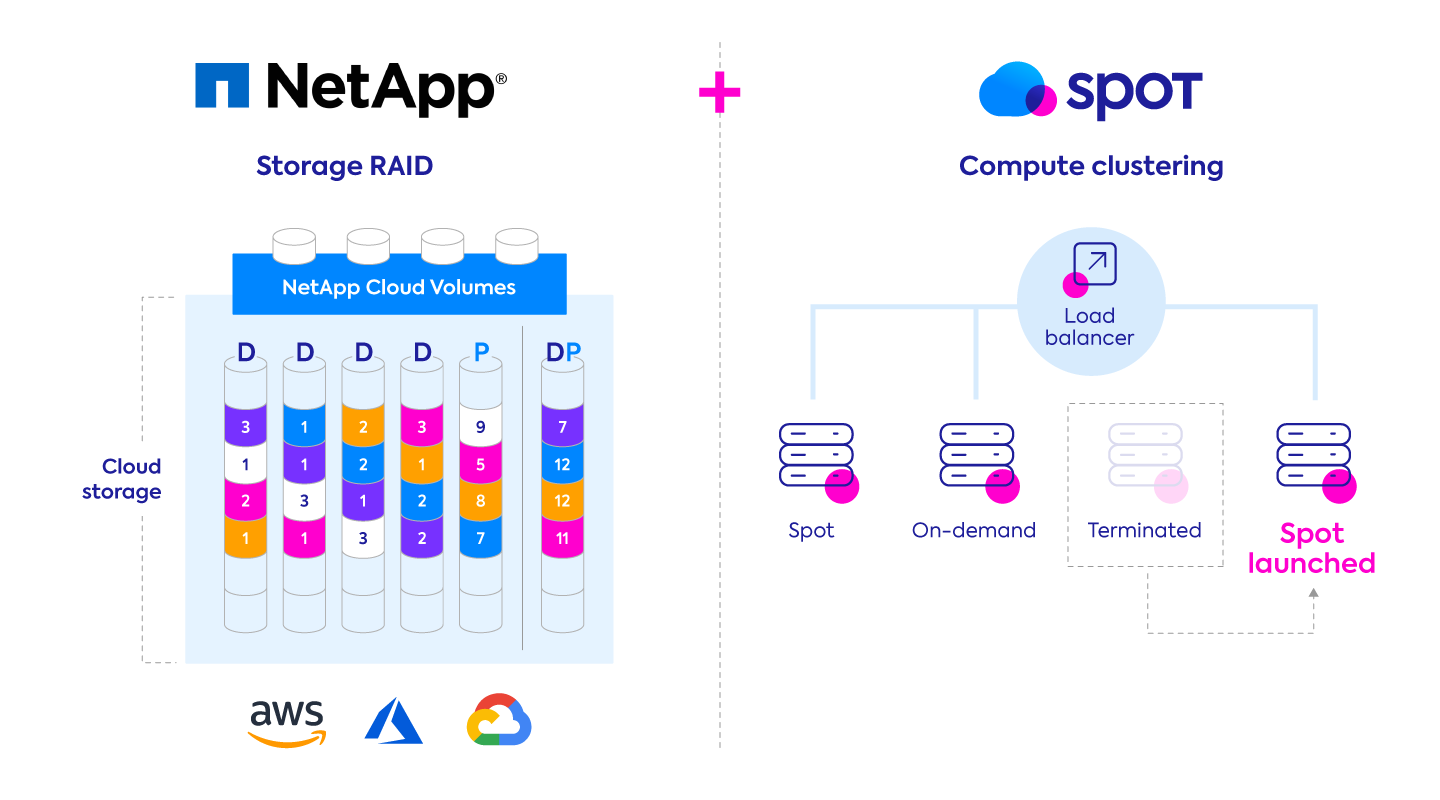 From that conversation onwards, it was clear to me that we would continue to cross paths with NetApp in the future. The more we kept the conversation going and talked about it, we found more ways to partner, more areas of a shared roadmap, more angles to collaborate, and more mutual customer opportunity.
A shared vision: Application Driven Infrastructure
We are entering into this partnership because we hold the same vision: helping application owners embrace and take advantage of the full power of the cloud. As Anthony writes in his blog, cloud infrastructure has been immensely valuable to application developers, providing them the ability to get resources almost instantly at any time, freeing developers from the constraints of physical hardware. However, that change has also in important ways exacerbated the challenges caused by the divide between applications and infrastructure. For one, the ability to easily and rapidly deploy significant amounts of resources can lead to huge amounts of wasted or underutilized resources and costs–"throw hardware at the problem" is an even more alluring short-term fix. At the same time, taking deeper advantage of the flexibility of the cloud to date often requires adding significant code and intelligence to applications.
The solution to bridging that divide can be summed up as Application Driven Infrastructure (ADI). ADI translates application workload patterns into infrastructure requirements that the infrastructure understands, intelligently and continuously adapting to drive the optimal price at the highest level of performance for both storage and compute while maintaining the contracted SLA and SLO.
Fundamentally, ADI means that applications don't need to have detailed understanding and control over infrastructure, and infrastructure doesn't need to be managed by a complex mix of custom and complex tools and manual labor. Application developers focus on developing the best possible software, CloudOps and infrastructure teams focus on providing the best possible deployment and operations aided by software that is continuously optimizing and automating infrastructure.
ADI extends the CI/CD model to include Continuous Optimization, realizing a new workflow that spans development to deployment and operations: CI => CD => CO.
Same Spot, same values, same spirit
Most importantly, our customer obsession remains unchanged. Spot will continue to offer and fully support our products, both now and as part of NetApp when the transaction closes. In fact, joining forces with NetApp will bring additional resources to Spot that you'll see in our ability to deliver our roadmap and new innovation even faster and more broadly.
Very rarely does a startup company have the opportunity to be acquired, preserve its brand, rapidly scale resources, and build something way bigger for its current and future customers. We couldn't be more excited about being able to take on a whole new set of challenges while continuing to execute on our own roadmap to make a huge impact on the market and on a Fortune 500 company like NetApp.
My personal commitment and the commitment of the entire Spot team to our customers, partners, employees and NetApp shareholders: we are going to build the next game-changing business unit at NetApp.
Stay tuned.
Now back to building,
Amiram