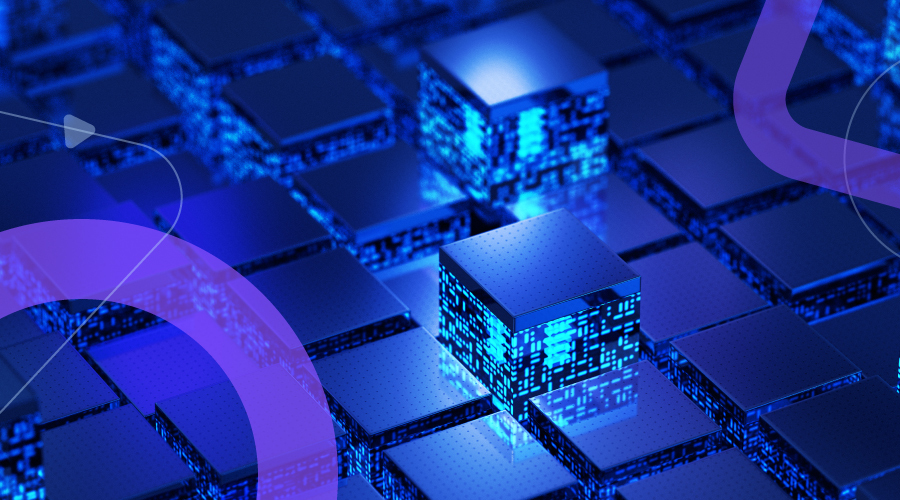 Reading Time:
3
minutes
When running stateful applications in the cloud, it's more likely you'll find them using pay-as-you-go VMs, which will stay up and running throughout the application's lifetime. On the other hand, using pay-as-you-go VMs  typically cost a lot more than spot ones. As these applications grow, so too does the cloud bill and finding ways to optimize costs is becoming a strategic goal. With the potential to save up to 90% on cloud compute, it's hard to overlook the benefits of Spot VMs for these workloads. 
With Spot by NetApp, organizations don't have to choose between resiliency, performance or cost. Over the years, we've worked to make it possible and easy to run stateful workloads  using  spot capacity. With Elastigroup, customers can have cost-efficient, reliable infrastructure that also keeps storage and IPs persistent at all times. 
Today, we are happy to launch Stateful Elastigroup for Azure. This major milestone allows you to utilize Azure's Spot VM technology to save up to 90% of your infrastructure costs while running stateful applications without any concerns.

Stateful Azure Elastigroup offers two solutions to handle the most common use cases for stateful workloads: 
Stateful Node 
Managing your stateful workload using a single instance solution is a very popular approach for many compute workloads such as personal development machines,  single DB instances, machine learning environments and more.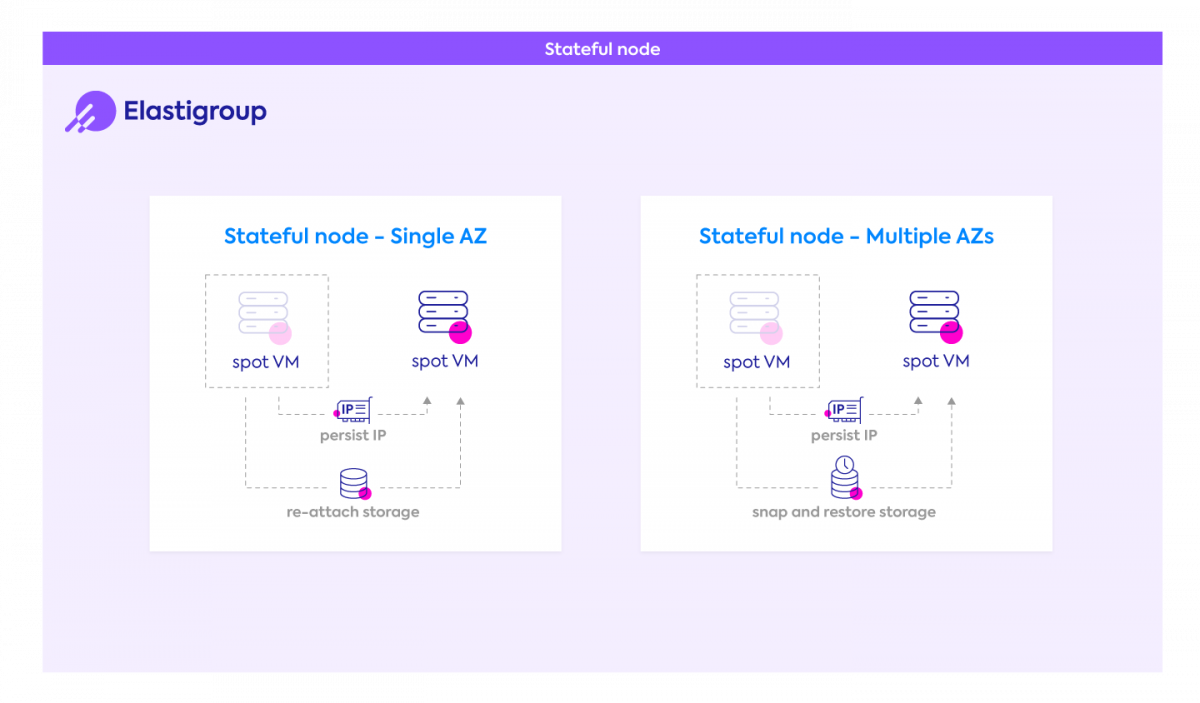 Using Spot's stateful node you can quickly import existing Azure's VMs into Elastigroup as new nodes while keeping your stateful resources intact. The platform can also be used as a centralized management and monitoring console for all running stateful nodes (and other workloads), with visibility into cost, logs, configuration settings and more. Both stateful nodes and groups can be created in Elastigroup, where you can monitor components, seamlessly add or remove disks, view the current state of nodes and take actions on a node or group (recycle, pause, resume, etc.)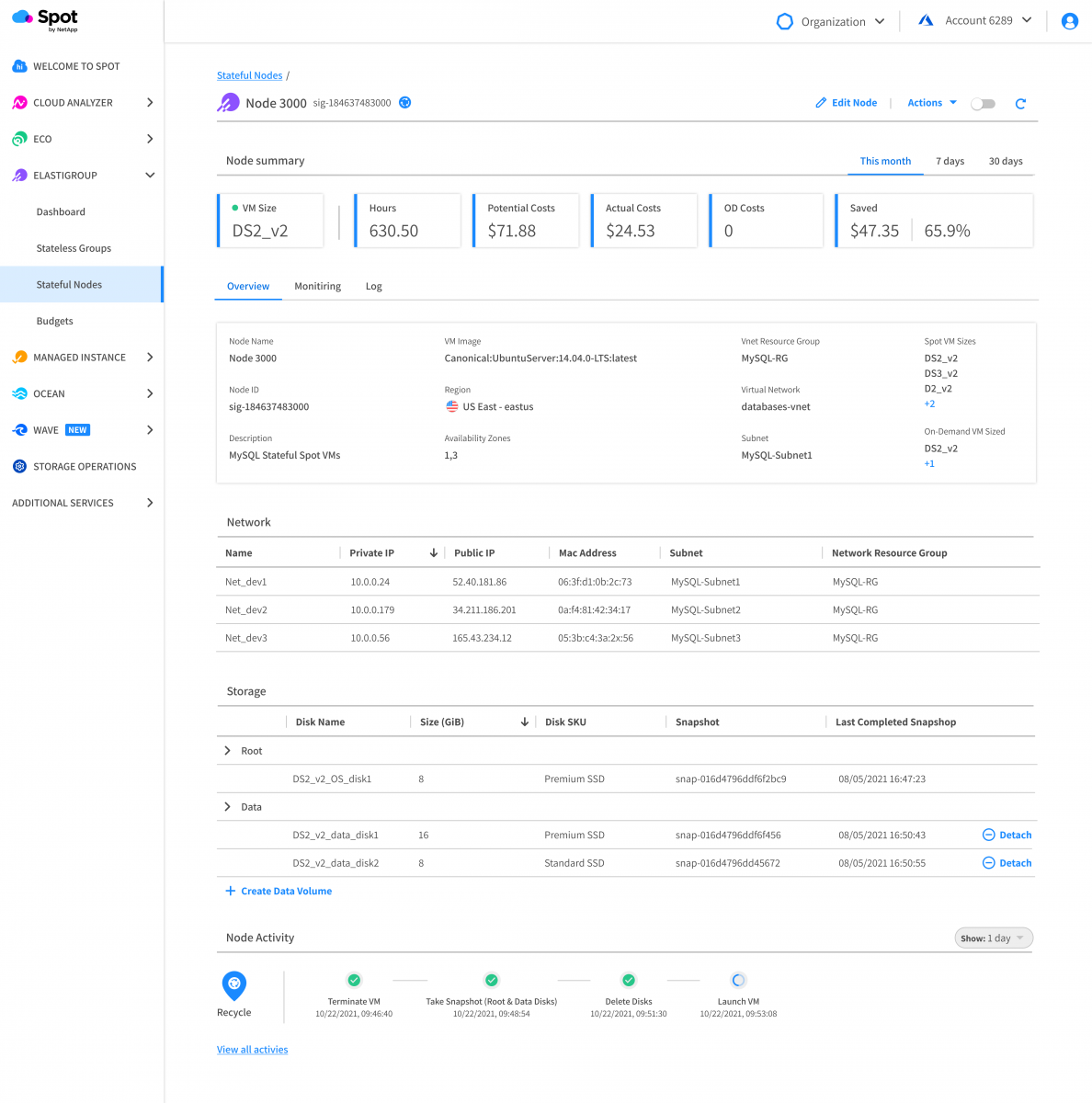 Elastigroup is also giving Azure users more flexibility and control over infrastructure for their stateful workloads:
Increase the availability of stateful nodes by defining multiple availability zones and spot VM types

Improve infrastructure efficiencies by using the advanced built-in scheduling mechanism to determine exact running hours for stateful nodes

Easily manage stateful components like storage devices and add/remove data volumes

Take actions on nodes (pause/resume/recycle/delete) in just a few clicks
Stateful Group
Stateful cluster is another common architecture for workloads such as SQL/no-SQL Databases, big data workers, application clusters and any other environment that requires stateful capabilities within a cluster.
Elastigroup for Azure Stateful Groups leverages the same solution as stateful nodes and extends these abilities to a group of VMs that share a common purpose. All nodes in a group have the same configuration, so they are eventually grouped into a unified entity. Elastigroup makes it easy to manage all the nodes within a specific group using:

Perform parallel actions on nodes inside a group

Specified lifecycle to selected nodes

Stateful nodes in a group are spread across multiple availability zones

Define group scheduled actions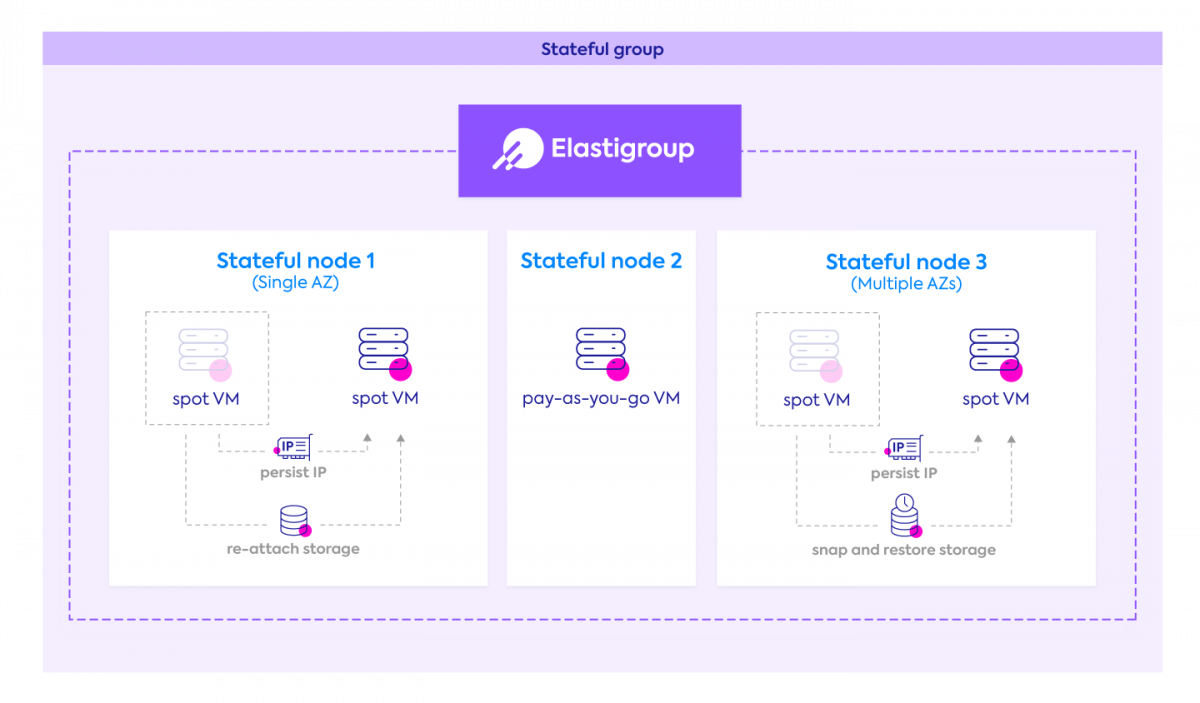 Similar to the stateful node process, here you can select several VMs to be imported into a single stateful group. During this process you can choose the desired configuration for all the VMs in the group and the stateful resources required.  This is one of the many ways that Elastigroup makes setting up, managing and maintaining cloud infrastructure easy.
Once you have Elastigroup managing your stateful workloads, they will be continuously optimized to run with the highest availability at the lowest cost. Machine learning algorithms monitor the spot market, identify at-risk VMs  and proactively replace them before any interruptions occur, giving customers an enterprise-grade SLA and up to 90% cost savings. With its predictive approach to instance selection, autoscaling and recovery, Elastigroup goes beyond standard cluster management and delivers a fully automated, intelligent cloud compute platform for all workloads. 
Discover how you can achieve continuous cost optimization for your Azure workloads. Watch the on-demand webinar
To learn more about Elastigroup, visit our product page. To sign up for the private preview of Stateful Elastigroup for Azure, please fill out the form below.