Reading Time:
2
minutes
https://www.youtube.com/watch?v=2VM1J3WR93o
Powerlinks journey to reduce costs
Powerlinks runs over 1000 instances and reducing cloud costs became a major concern. "Our costs were increasing dramatically, so we needed to find a way to reduce them quickly," said Ollie Finn, CTO at PowerLinks.
Powerlinks began to explore various ways to reduce costs without making any architectural changes. As heavy users of AWS CodeDeploy, it was essential to stick only to solutions that would integrate seamlessly.  
Spotinst Elastigroup integrates seamlessly with AWS CodeDeploy and acts as the infrastructure layer for AWS CodeDeploy, making it a perfect fit. As CTO Finn said, "the Spotinst integration with CodeDeploy was a perfect match. Since implementing Spotinst, we've seen our compute costs drop by nearly 80%." Elastigroup enables the launch and management of EC2 Spot and Reserved Instances according to the configuration and specifications directly into the deployment groups with the latest changes Powerlinks made.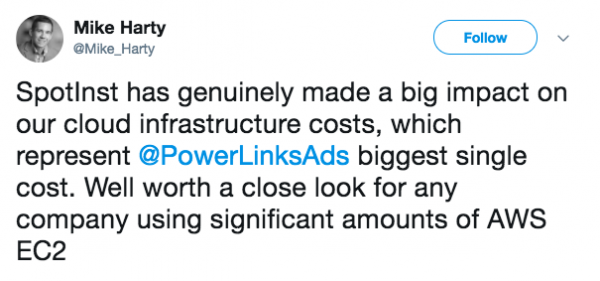 Under the hood: Elastigroup & CodeDeploy integration
Spotinst Elastigroup integrates with the existing Deployment Groups to ensure all new instances will be launched with the most updated configurations and specifications in AWS CodeDeploy.
"The experience with Spotinst so far has been brilliant. Their support helped us migrate our Production environment within 2 weeks with no downtime at all"
And it won't end there. The Powerlinks team said they "are looking forward to migrating ECS and Elasticsearch environments to Spotinst's ECS integration and Stateful feature."
About Powerlinks
Powerlinks is a programmatic native advertising platform, powering marketplaces and technology services for native ads across all devices. The global platform enables the programmatic real-time trading of In-Feed, In-Video, In-Image, In-Text and In-Display formats.