Reading Time:
10
minutes
The cloud can deliver huge benefits to enterprise IT and your business as a whole. But in order to get the most out of your investment, you need to think strategically about how you will measure the success of your cloud journey.
Whether you've recently adopted a cloud platform for your organization or your cloud operations are well established, there are many ways to assess the overall effectiveness of your IT infrastructure. One way to do so is to create a cross-functional group, like a Cloud Center of Excellence (CCoE) and/or FinOps organization, to manage and monitor your cloud investment and track your cloud KPIs, or key performance indicators.
What Is a Cloud Center of Excellence?
A Cloud Center of Excellence is a cross-functional team of people that leads cloud adoption, migration, and operations within their organization. In other words, CCoE members serve as internal subject matter experts on all things cloud. The CCoE is responsible for developing and managing the cloud strategy, governance, and best practices that the rest of the organization can leverage to transform the business using the cloud.
The CCoE can address the complex challenges of cloud adoption, migration, and operations throughout an organization, guide policies around cloud best practices, and determine the key performance indicators that will drive cloud success. Some organizations may refer to this team as a Cloud Competency Center, Cloud Capability Center, or Cloud Knowledge Center.
What Is FinOps?
FinOps, short for Cloud Financial Operations, aligns advanced cost management metrics with business objectives to help companies optimize their cloud spend. FinOps is the evolution of traditional cloud cost management and cloud cost optimization practices.
This involves more than tracking cloud spend and utilization and trends and tying cloud costs to departmental use. FinOps measures the effectiveness of cloud spend and relates it to business goals using metrics. To effectively optimize cloud spend, a FinOps practice aligns advanced cost management metrics with business metrics, such as revenue and profit; development schedules, requirements, and costs; business units and operations; growth projections; and other long-term analysis.
What Are Key Performance Indicators?
Key performance indicators (KPIs) are quantifiable measurements and metrics that help gauge the health and progress of a business endeavor. When used and interpreted in the right way, they can offer a valuable guide regarding the performance of your cloud transformation and effectiveness of your CCoE and/or FinOps efforts.
The right cloud KPIs can demonstrate the value of the cloud, help you counter resistance to change, and reduce the amount of effort you need to justify cloud adoption to company leadership. Some cloud KPIs will be specific to your own individual organization. Others will be those you may have used to track the performance of an on-premises data center.
Cloud KPIs and Benchmarks
The cloud puts an end to many of traditional IT challenges, such as capacity issues, while introducing new ones, such as cost and performance optimization. This will call for new metrics to benchmark your progress on your cloud journey.
Whether or not your organization has a CCoE or FinOps function, you can use some or all of these metrics to gauge the effectiveness of your cloud practice. While a CCoE can guide that journey for some organizations, you may have other internal stakeholders who can serve as experts for your cloud adoption, migration, and operations. CCoEs, FinOps coalitions, and other cross-functional teams can use these benchmarks to measure progress and ensure that you get the most out of your cloud investment.
The following 50 KPIs will help you evaluate your overall cloud transformation: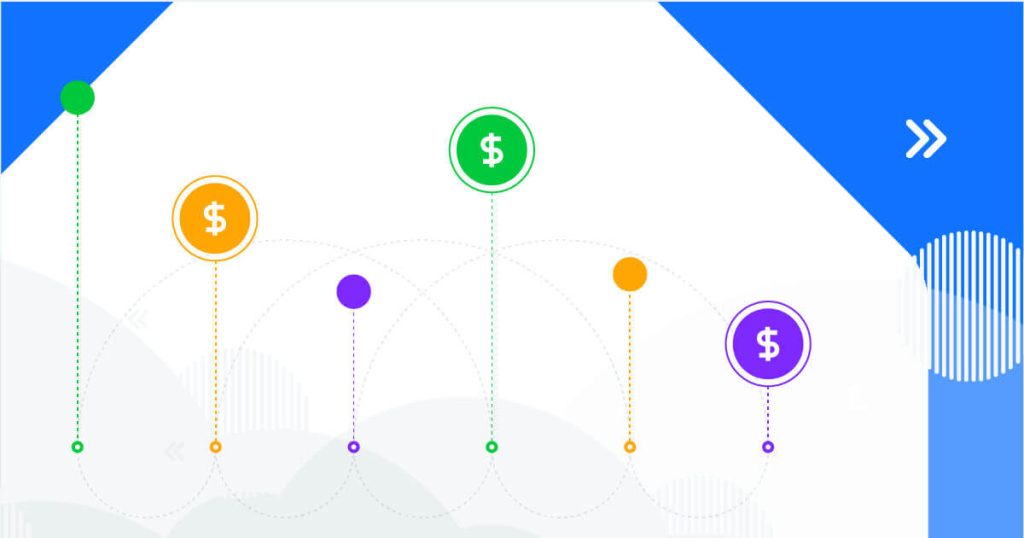 Financial Cloud KPIs
The ultimate goal of your cloud journey is to improve the bottom line. But what are your starting points? In other words, what's the cost of running your on-premises data center? And what are your financial expectations? Your efforts around your cloud journey should help you lower costs and get a worthwhile return on your cloud investment. This is an area where a FinOps team, including members of finance, can offer their expertise.
On-Premises Costs
A move to the cloud represents a switch from a CAPEX to OPEX model of financing your IT. To benchmark your cloud costs against on-premises expenditure, you need to compare them on a like-for-like basis. That means converting the total cost of ownership (TCO) of your data center into an operating cost.
1. Cost of on-premises hardware: How much did you previously spend on servers and networking? Compare this to the monthly and annual costs of operating in the cloud.
2. Lifespan of hardware: How often have you needed to upgrade or replace your IT infrastructure? This provides the basis for calculating the monthly or yearly cost of making hardware purchases.
3. Total cost of capital investment: What is the full cost of paying for your equipment upfront? In other words, you need to account for the interest you'd have earned if you held onto that capital or the interest and fees you paid to take out a loan.
4. Power and facilities: Compare the cost of electricity to run your equipment and provide floor space, such as rent, fire safety equipment, and security staff.
5. IT staffing: The cloud can reduce the operational overhead of running your IT. This frees up your workforce to focus more on building and maintaining applications. Are you currently spending more on operations or development? Make sure you have a clear breakdown, so you can assess the impact of the cloud on your workload.
6. On-premises IT cost per transaction: If you sell online, you'll want to know how switching to pay-as-you-go infrastructure will affect your IT cost per sale.
7. On-premises IT costs as a proportion of all business spending: As business costs generally increase over time, it's useful to benchmark IT expenses against spending as a whole.
Migration Costs
As with your on-premises calculation, you'll need to estimate a lifespan figure for each of the following KPIs in order to translate them into cloud operating costs. It's also important to bear in mind development, management, training, and recruitment costs if you were to continue hosting applications in-house.
8. Cost of rehosting or rearchitecting applications: What is the cost of redesign and redeployment to get your applications up and running in the cloud? Rehosting involves reconfiguring applications to make them work in their new cloud environment. By contrast, rearchitected applications are designed to take advantage of modern cloud features and are more agile and cost-efficient to run. However, rearchitecting comes at a higher initial cost, as it requires significantly more work.
9. Management time: How much time management do you spend planning and overseeing IT resources? Compare the management of both on-premises IT and cloud resources, if applicable.
10. Cost of training: Determine the cost of training staff in new systems and technologies.
11. Cost of hiring new talent: Recruitment costs shouldn't just include advertising, but also the time spent screening and interviewing candidates, training, and provisioning of a desk and computer.
Cloud Operational Costs
Lower operational expenses will be one of your primary adoption objectives. But that can only come by regularly monitoring, reviewing, and optimizing your cloud costs.
12. Monthly cloud bills: Are costs in line with forecasts? Are you identifying cost-saving opportunities that could reduce your bills further? Over time, track whether your cloud costs are going up or down.
13. Ongoing staffing costs: Has cloud adoption affected general staffing expenses? Take, for example, the finance team. Are they spending more time analyzing IT costs or less?
14. IT staffing costs: Has spending gone up or down? In particular, are you spending more on operations or less?
15. Cost of third-party partners and tools: What third-party services and tools are you using to help manage your cloud? How much do they cost? Third-party cloud management tools and services should help you find ways to save money, add value, and even generate revenue.
16. Energy costs: How much money are you saving on electricity to power servers, storage, cooling, and auxiliary systems? If you've recently migrated from the data center to the cloud, you should see a difference in energy costs.
17. Cloud IT costs as a proportion of all business spending: Have they gone up or down against your on-premises benchmark? If you've been operating in the cloud for some time, then look at overall cloud spend to find ways to become more cost-efficient.
18. Budget variance: Is your cloud spending aligned to your budgets? Are budget figures realistic? Review them to determine how the cloud fits into your budget over time.
Profitability and Cash Flow
IT is just one of many factors that can affect your profitability. Therefore, you'll need several KPIs to gauge the true financial impact of cloud operations on your business performance.
19. Customer growth: Is your customer base going up or down? For this KPI, find figures that will demonstrate a correlation between sales growth and cloud transformation, if applicable.
20. Revenue: Are your cloud-based applications bringing in more business?
21. Savings: Similarly, are your cloud-based solutions saving the company money?
22. Cloud IT cost per transaction: Has the figure increased or decreased? How does it vary with changing sales patterns?
23. Net profit: Has cloud adoption made a positive impact on company profits?
24. Operating cash flow: Has the switch from CAPEX to OPEX improved your cash flow? This answer depends on cooperation between leaders in finance and IT, and is something that your CCoE or internal experts should look at on a regular basis.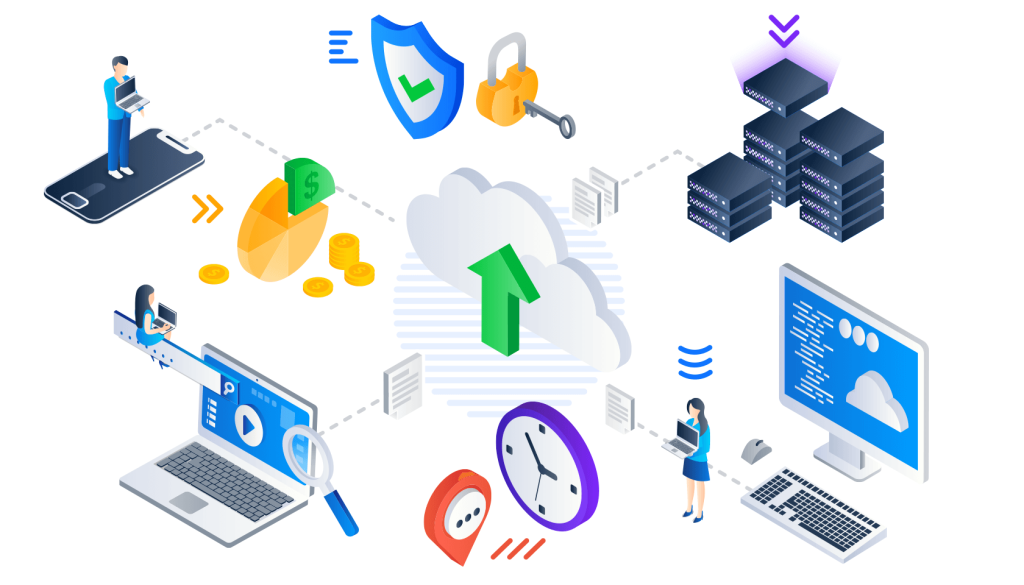 Business-Value Cloud KPIs
In addition to your financial KPIs, you also need to consider the wider benefits of the cloud. Cloud KPIs may include agility and better application performance, which provide long-term value to your business. Members of the CCoE, DevOps, and FinOps cloud experts can all weigh in.
Governance
The cloud is a complex, dynamic environment. It's incredibly easy to spin up new instances. But it's also equally easy to lose track of them without good cloud governance to keep costs and security under tight control.
25. Cloud visibility: Do you have full visibility over your cloud inventory? This includes seeing where you're spending your money and whether you're seeing the full picture of your security posture.
26. Cost control: Are you making efficient use of your cloud infrastructure? Can you identify unused and underutilized resources? Find ways to easily detect and shut down unused resources to optimize your cloud costs.
27. Cost allocation: Can the finance team allocate costs and implement chargeback and showback systems? Your organization should know which departments or functions are using cloud resources — and how much they cost.
28. Consolidated billing: Are you consolidating cloud accounts to take full advantage of discount plans and usage thresholds?
29. Reporting accuracy: Is your cost reporting more accurate? How often do you need to fix errors in your reporting?
30. Internal audit cycles: When comparing cloud and on-prem, determine whether it takes more or less time to audit IT costs.
31. Compliance: Does your cloud meet compliance objectives? Are you in a position to host sensitive workloads? Make sure that you are meeting all regulatory standards for your industry.
Agility and Performance
An improved IT service and positive development progress not only show your cloud investment is producing tangible results, but is also a clear sign staff are motivated, share your vision, and have bought into the concept of the cloud.
32. Project turnaround times: Are your cloud projects on schedule? Do you need to revise deadlines? What are the reasons for delays? Your CCoE should help all departments remain accountable.
33. Performance targets: What are your IT performance goals? Is application performance in line with expectations? What about incidents, faults, and change requests? How often are you rolling out code fixes and application improvements?
34. Service availability: Is your cloud environment more robust? Observe how many service interruptions you experience and, if any, how long they last. If applicable, compare to any downtime you experienced with on-premises hardware.
35. Market responsiveness: What new services have you developed? What do you have in the pipeline? Are you seeing a faster time to market or exploring new markets?
36. Open source tools: Are you leveraging open-source technologies? Are they reducing the workload of development and operations teams? Involve your DevOps teams in these discussions to find out what tools they are using and which ones could make their jobs easier.
Automation
Automated processes reduce the manual workload of managing your infrastructure and help you stay on top of complex, dynamic infrastructure. They also provide immediate responses to events, such as configuration changes or sudden increases in workload. Here are a few ways your teams can automate their manual processes.
37. Resource optimization: Are you buying the right size of instances? Can you scale them on-demand? Do you need to run them during off-peak hours? Are you removing old volume snapshots? Leverage automation to perform these functions.
38. Bursting: Can you automatically burst on-premises workloads to the cloud?
39. Resource health: Can you automatically replace unhealthy instances with healthy ones?
40. Secure workload automation: Do you have guardrails in place to ensure users provision secure and compliant application environments?
Customer Satisfaction
By modernizing your IT, making cost efficiencies and revamping legacy applications, you can pass on the benefits to your customers through a better user experience and more competitive pricing.
41. Application latency: Are your new cloud-based applications working faster than legacy, on-premises solutions?
42. Conversion rate: Is your website converting more traffic into paying customers?
43. Queries to customer support: Are you providing a smooth and efficient buying experience? Make sure your website pages, including FAQs, are clear to reduce the number of calls to customer support.
44. Retention rates: Repeat customers are another indicator of a good buying experience.
45. Customer satisfaction surveys: Do the responses point to any issues in the customer lifecycle? Look to online benchmarks like the Net Promoter Score to help you evaluate this metric.
Stakeholder Buy-in
Staff often feel threatened by new technology and new working practices. Therefore, it's important to demonstrate the positive benefits of the cloud and get everyone on board with your cloud transformation project.
46. Education: What cloud training have you provided? What have you done to raise cloud awareness throughout the organization? This is an ideal place for your CCoE and/or cloud stakeholders to take the lead.
47. Collaboration: Are you sharing the same tools, knowledge, and technologies throughout the company? This should be another key goal for your CCoE or internal subject matter experts.
48. Business intelligence: Do decision makers receive more business insights? For example, you might see more visibility into customer behavior or a more granular cost breakdown.
49. Influence and engagement: Does your CCoE (or other cloud stakeholders) have a seat at the executive table? (The answer should definitely be "Yes.")
50. Stakeholder feedback: Does the company leadership recognize the full impact of cloud operations across the organization? Do they see how all your KPIs play a part in the bigger picture? Make sure that your leadership team is involved in every stage of your cloud journey and, if applicable, in the development of your CCoE.
What You Need to Track Your Cloud KPIs
The complexity of cloud infrastructure shouldn't be a barrier to measuring the success of your cloud journey. Leading cloud vendors, such as AWS and Azure, support an extensive ecosystem of third-party tools that make benchmarking easier than ever.
Third-party cloud management solutions can track the performance of your applications, monitor your cloud for adherence to compliance frameworks, suggest best practices for maintaining security and cost control, and provide insights to support business decisions. Above all, they can make a positive impact on your cloud KPIs by helping you improve the IT performance that underpins them.
Learn more about the reporting, monitoring, and best practice tools to track your cloud KPIs in CloudCheckr from Spot by NetApp.