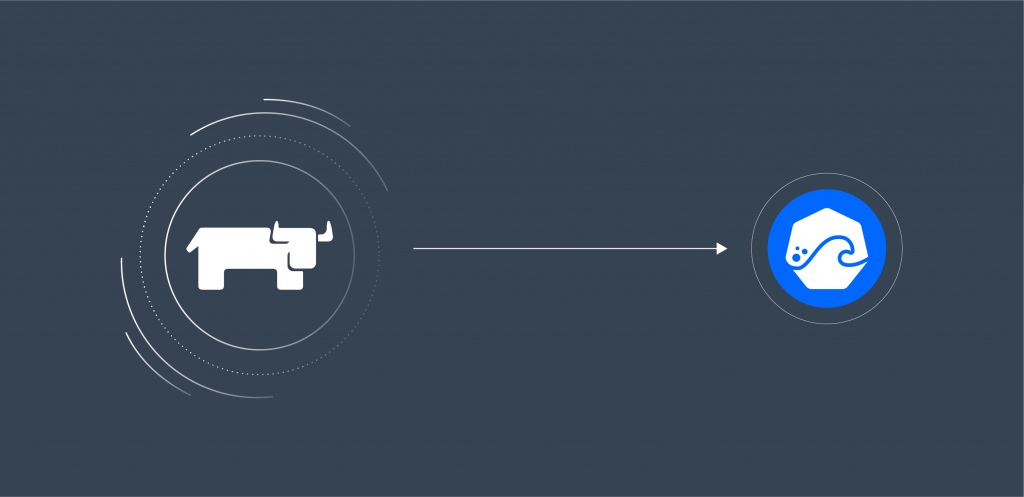 Reading Time:
6
minutes
Introduction
Rancher 2.x is an open source product that simplifies the deployment and management of Kubernetes clusters. Rancher can provision Kubernetes from a hosted cloud provider or an on-prem Datacenter, provision compute nodes and deploy Kubernetes on them, or inherit existing Kubernetes clusters, while managing them from the same interface. Adopting Rancher simplifies user management, security policy administration, version upgrades, backups, recovery and more. 
Like Rancher, Spotinst Ocean also supports every Kubernetes cluster running with the cloud providers. Whether a preferred  Cloud Provider is chosen, Vanilla Kubernetes or a managed service like EKS or GKE, Spotinst Ocean will dynamically handle the provisioning of the most optimal infrastructure. 
Spotinst Ocean is the serverless containers platform, and it's the most efficient way to run Kubernetes clusters in the Cloud. On top of any Kubernetes environment, Spotinst Ocean abstracts the underlying infrastructure by dynamically selecting compute resources that fit Pods and Containers resource requirements, and in addition to that, it increases the cluster's node utilization, thus dramatically lowering operational cloud costs. 
If you haven't heard about Spotinst Ocean yet, we recommend checking out our Ocean introduction for a deeper dive.
In this blog post, we will demonstrate how to run a cost-efficient Rancher cluster over Spotinst Ocean.
Architecture – System Process Flow 
Before we get started, let's review the main components required in order to run a Rancher cluster over Spotinst Ocean: 
A Rancher Server includes all of the software components used to manage the entire Rancher deployment and the Rancher server API. One Rancher server installation can manage hundreds of Kubernetes clusters. 
Control-plane and etcd nodes

run the Kubernetes

etcd database and the Kubernetes API. A single node can be used for both roles. For a simple setup, it's sufficient to run only one node, while for production environments it is recommended to run it on two or three nodes for redundancy, thus in order to assure high availability. This node will run as an independent On-demand instance. 
Worker nodes are the agents in the Rancher deployment which run the containers and pods. In this setup, the worker nodes will be custom nodes that are launched by Spotinst Ocean and scaled according to the pods' requirements. 
Ocean Kubernetes controller is a Kubernetes deployment installed inside the cluster that is responsible for collecting metrics and events and pushing them via a one way secured link to Spotinst's API. The collected metrics will be used by the Spotinst Ocean Autoscaler in order to adjust the infrastructure capacity to meet actual container requirements. The adjustments are reflected in optimizing the type, size, and distribution of instances, thus allowing to achieve a higher resource allocation and utilization of the Kubernetes cluster.


Step-by-step Tutorial

Before we begin, please validate that you have a Rancher server and a Kubernetes cluster installed on AWS, with at least one etcd and control plane node. Use this Rancher quick-start guide to set it up by using a Terraform template. 

Make sure to have the following generated from your Spotinst console: 

Step 1 – Modify your Rancher Cloud Cluster 

Configure your Rancher cluster to add custom hosts: 

Edit your Rancher cluster. Under Cluster Options, set Cloud Provider: Custom. 

Under Customize Node Run Command, define Node Options: Worker. 

Save aside the registration command which will be later used to build the instance userdata.

It should look like the following:

sudo docker run -d --privileged --restart=unless-stopped --net=host -v /etc/kubernetes:/etc/kubernetes -v /var/run:/var/run rancher/rancher-agent:v2.2.4 --server https://RancherServerIP --token XXXX --ca-checksum XXXX --worker

Step 2 – Create an Ocean cluster for Rancher worker nodes