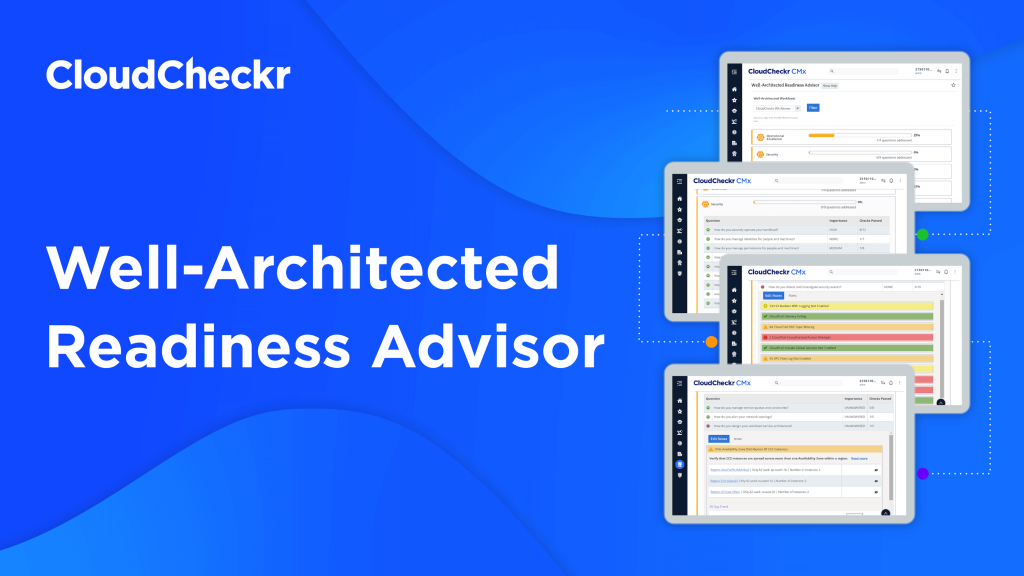 Reading Time:
3
minutes
At CloudCheckr, now part of Spot by NetApp, we are continually seeking ways to deepen the value we provide to our partners and customers on their journey to provisioning and operating cloud environments for business agility, scalability and governance control.
To this end, CloudCheckr just launched its Well-Architected Readiness Advisor – available within CloudCheckr CMx – to give managed service providers (MSPs) yet another way to deliver differentiated value-add offerings to their customers.
Perform more reviews faster, easier and more efficiently than ever before
CloudCheckr's Well-Architected Readiness Advisor helps MSPs streamline the process of delivering AWS Well-Architected Reviews, while ensuring that their customers' AWS environments are continuously in compliance with the Well-Architected Framework.
An AWS Well-Architected Review is a process through which an organization's AWS architecture is assessed against the five pillars of the AWS Well-Architected Framework, usually on an annual basis, to ensure customers' AWS clouds are optimized for cost, security, operations, performance and reliability. For MSPs who must complete dozens, if not hundreds, of reviews annually for their customers, the Well-Architected Readiness Advisor provides a way to significantly simplify and speed up the review process.
A report within the CloudCheckr platform, the Well-Architected Readiness Advisor, automatically centralizes all the applicable CloudCheckr Best Practice Checks (BPCs) and aligns them with their respective Well-Architected Review questions (from the Well-Architected Tool). This easy-to-view report provides the information needed to complete Well-Architected Reviews, at your fingertips, so there's no need to go hunting around for the data. Through this automated and fact-based process, the Well-Architected Readiness Advisor minimizes the possibility of missing key information or of misinterpreting or misrepresenting the data.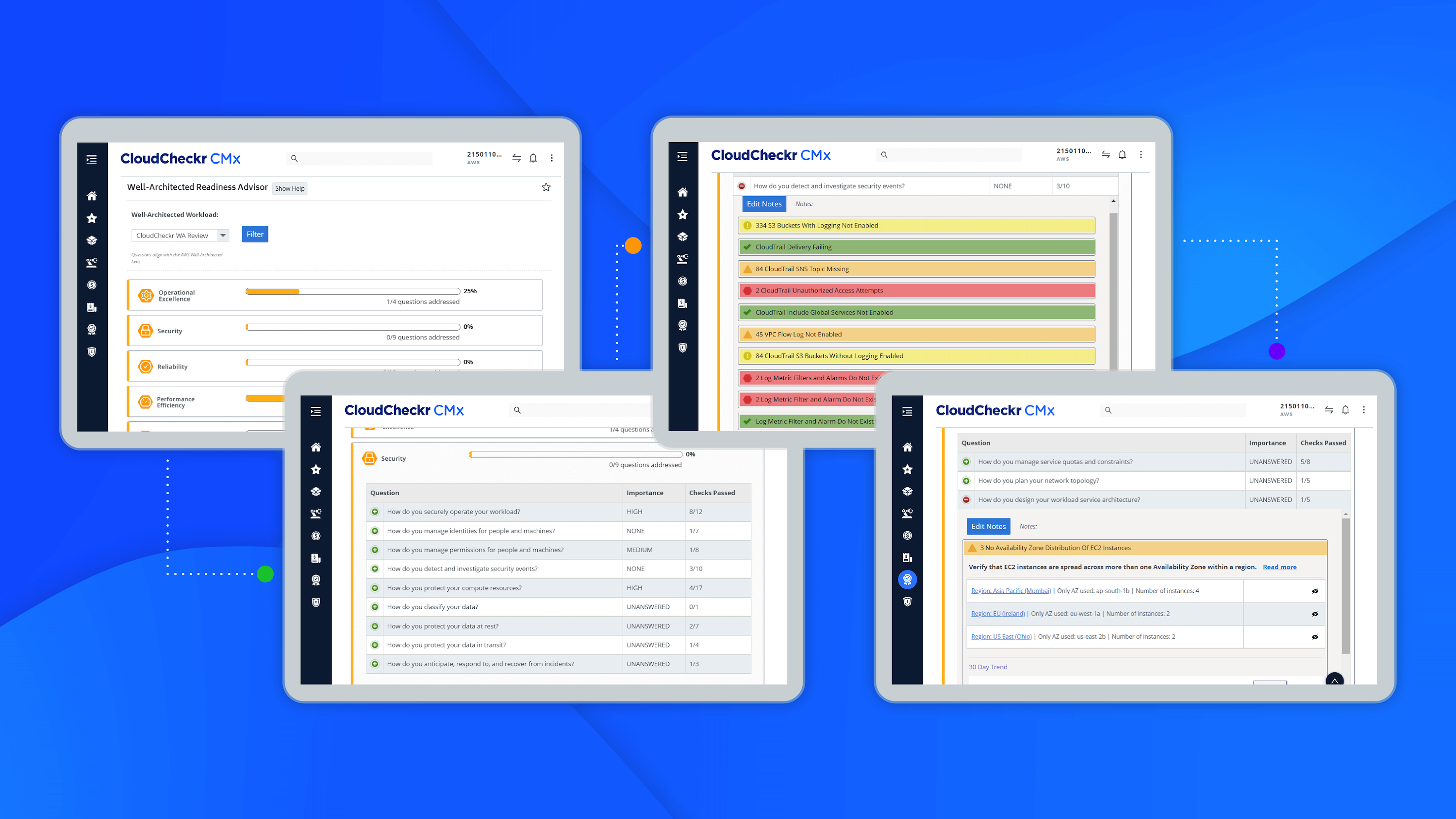 Get actionable insights to deliver greater value to customers
While the Well-Architected Readiness Advisor helps deliver Well-Architected Reviews in far less time, and with far less effort and cost, it goes well beyond that. The Well-Architected Readiness Advisor provides strategic, actionable visibility and insights for MSPs and their customers that can help reinforce the MSP's status as a trusted advisor, and thus further increase customer satisfaction and retention.
First, the BPCs within the Well-Architected Readiness Advisor will actually pinpoint the root cause of Well-Architected compliance issues and can often fix them on the spot through CloudCheckr CMx's self-healing remediation capabilities. This immediately reduces risk and significantly simplifies any remedial actions that are required by AWS to comply with Well-Architected guidelines.
Second, since CloudCheckr CMx's BPCs continuously monitor the AWS environment, MSPs and their customers will always have up-to-date compliance with the Well-Architected Framework and visibility into the AWS workloads. Any drift or changes to costs, performance, reliability, operations, or security made at any time that create risk or are deviations from the desired state will be detected — all without waiting for the customer's annual Well-Architected Review. This helps maintain ongoing compliance not only with the Well-Architected Framework but with a wide range of industry regulations and best practices, helping to ensure that customers always have a secure, compliant, high-performing, resilient, and cost-efficient infrastructure for their applications and workloads.
The Well-Architected Readiness Advisor is integrated within the CloudCheckr CMx platform, and it utilizes many of its built-in 600+ BPCs. Therefore, there's no ramp-up time to use the Well-Architected Readiness Advisor, nor are any additional configurations needed. It's ready-to-run and repeatable, delivering even more ROI from the CloudCheckr CMx platform out-of-the-box.
See CloudCheckr CMx and the Well-Architected Readiness Advisor in action
Request a demo to see what CloudCheckr can bring to your AWS environment.