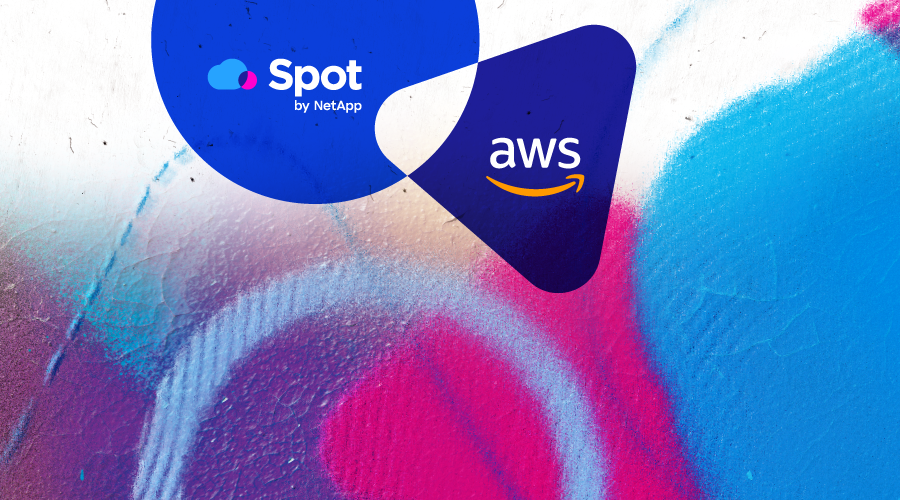 Reading Time:
4
minutes
Greetings from Las Vegas, and the first "normal" AWS (Amazon Web Services) re:Invent since the show in 2019! We made it! Now begins the recovery and the slog back to "normal." It does not matter if it was your first, third, or even fifth AWS re:Invent experience. You always end up walking away learning something new or finding new tools that you did not know you needed, and as always, more swag and freebies from the convention floor than you thought possible. But I am sure you, like me, are exhausted and ready for a good month's sleep.  
The 2022 AWS re:Invent was a little different for me but mostly the same. This year marked my fifth time attending. It never ceases to amaze me how the show grows year over year but still is familiar in all the right ways, from where things are found to the end-of-the-show party re:Play on Thursday night.   
This year was my first going from being a general attendee watching and learning to working the booth for Spot by NetApp. If you've been on the conference circuit, you know that it's a lot of effort to attract an audience, give product demonstrations, and give fellow attendees your undivided attention in a busy expo hall. Working the booth gives me a newfound respect for the efforts of sales and marketing teams handling events of all sizes. The fact that by Thursday I had lost my voice gave me a unique insight into the organized chaos that was the re:Invent vendor expo.   
But enough about that, let's look at some of the Announcements that came out from AWS' flagship conference.  
AWS re:Invent 2022 featured four major themes that it seemed like every speaker touched on:
Economic uncertainty drives optimization:

Optimizing your cloud infrastructure will become critically important as we move into 2023, and what experts seem to be predicting is some economic slowdown. The problem is: how do you prepare for this? Optimization and cost management are the building blocks for this effort. Ensuring environments are rightsized and running at peak performance will be critical to every company that touches the public cloud.

Diversity and inclusion in the cloud industry:

The tech space is traditionally very homogenous and male-dominated. AWS made several commitments to increasing Diversity and Inclusion, including through education programs. They also highlighted business efforts such as investing in machine learning to give underrepresented communities in tech a voice in how AI and ML initiatives are shaped.

Security and security automation:

The more data companies store in the cloud, the bigger the attack surface and the potential for some exposure or exfiltration of data. Infrastructure misconfiguration from storage to the instance is consistently at the top of every "cloud security issues" list. AWS announced several efforts, including an AI-based data lake, specifically to help with security events.

Sustainability and conservation:

Ensuring your firm can meet its sustainability and environmental pledges is at the forefront of concerns for cloud customers. AWS made numerous pledges to become energy- and water-neutral over the next several years on top of developing more efficient cloud infrastructure that delivers more performance per kilowatt-hour. 

 
What big announcements came out of re:Invent 2022?
I have thought of re:Invent as less of a conference about "what happened" over the previous calendar year and more of a forward-looking event to prepare us for what the next year holds.  As this year's re:Invent demonstrated, in 2023 we'll continue to address issues surrounding economic uncertainty, cloud optimization, and ethical AI development that includes diverse voices and perspectives.  
We can't know for certain what the new year has in store for the cloud. But we do know that our friends at AWS and we at Spot by NetApp are here to help. Learn more about Spot's automated infrastructure solutions for AWS.