Reading Time:
3
minutes
The new GPU-based Amazon EC2 P3 Instances
Last week, AWS announced the new P3 family, the next-generation of EC2 compute-optimized GPU instances. Amazon EC2 P3 Instances are powered by up to 8 of the latest-generation NVIDIA Tesla V100 GPUs and are ideal for computationally challenging applications, including machine learning, high-performance computing, computational fluid dynamics, computational finance, seismic analysis, molecular modeling, genomics, and development of autonomous vehicle systems.
EC2 P3 Instances provide a powerful platform for Machine Learning and HPC by also leveraging 64 vCPUs using the custom Intel Xeon E5 processors, 488 GB of RAM, and up to 25 Gbps of aggregate network bandwidth leveraging Elastic Network Adapter technology.
They are available in three instance sizes, p3.2xlarge with 1 GPU, p3.8xlarge with 4 GPUs and p3.16xlarge with 8 GPUs, in US East (N. Virginia), US West (Oregon), EU West (Ireland) and Asia Pacific (Tokyo) regions: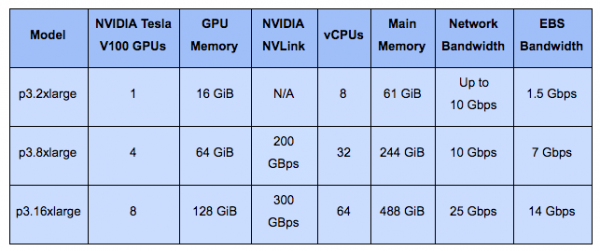 NVIDIA Tesla V100 – Powerful and High-Performance GPU
The NVIDIA Tesla V100 accelerator is the world's highest performing parallel processor, designed to power the most computationally intensive HPC, AI, and graphics workloads.
The GV100 GPU includes 21.1 billion transistors with a die size of 815 mm2. GV100 delivers considerably more compute performance and adds many new features compared to its predecessor, the Pascal GP100 GPU, and its architecture family.
Tesla V100 offers the performance of 100 CPUs in a single GPU – enabling data scientists, researchers, and engineers to tackle challenges that were once impossible.

EC2 P3 Instances at Spot Instances Price
We're pleased to announce Spotinst support for P3 Instances.
Spot instances provide you with access to unused Amazon EC2 spare capacity at steep discounts relative to On-Demand prices. The Spot price and availability fluctuate based on the supply and demand of available unused EC2 capacity.
With Spotinst you can save about 80% of On-Demand prices, without any change to your existing applications or architecture, while guaranteeing 100% availability to your cluster.
Pricing example at US East (N. Virginia) region at the time of writing:


Getting Started
First, log in to Spotinst Console.
When creating a new Elastigroup or when editing existing Elastigroup configuration, simply go to the Compute tab and choose the desired instance types: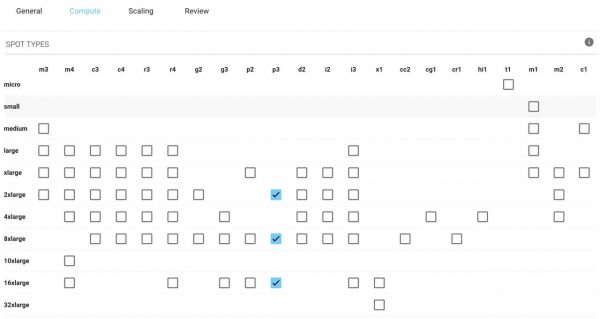 If you will use those instances for stateful application, then data integrity and consistency is crucial. You can simply leverage our stateful feature and configure Elastigroup to keep the machine's root volume, data volumes, and even the private IP if needed when it replaces a Spot Instance.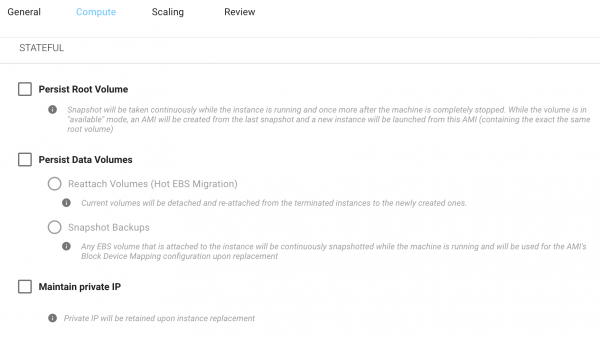 Click here for more information about the stateful feature.
Moreover, check out the new set of AWS Deep Learning AMIs, which come preinstalled with deep learning frameworks optimized for the NVIDIA Volta V100 GPUs in the new Amazon EC2 P3 instance family. They both configured with NVidia CUDA 9, cuDNN 7, NCCL 2.0 and NVidia Driver 384.81, as well as MXNet, Caffe2, and TensorFlow:
The Deep Learning

AMI CUDA 9 Ubuntu Version

The Deep Learning

AMI CUDA 9 Amazon Linux Version
Contact us to schedule a demo with our Solution Architect team, or with any question, you might have.