Elastigroup for Microsoft Azure
Reliably run Production and Mission Critical applications
at 80% less of your Azure infrastructure costs
Spotinst is a leading provider of cloud software that enables companies to reliably run production and mission critical applications in Azure's Compute Spot Market (aka Low Priority VMs).
Microsoft Azure Low-priority VMs
Microsoft Azure Low-priority VMs Low-priority VMs are allocated from Microsoft Azure's excess compute capacity, enabling workloads to run for a significantly reduced cost or allowing companies to capture 5x more compute capacity for the same budget.
Low-priority VMs' Anatomy
With Low-priority VMs, Microsoft effectively lets you "borrow" and take advantage of unused capacity for a great price. However, they can reclaim these VMs at any given moment due to higher priority allocations. Microsoft grants access to their spare capacity in each region. The amount of spare capacity varies by region and VM size according to multiple factors, including day of week, time of day, and demand for different VM sizes.
Elastigroup is a software that provisions and manages a collection of Azure VMs. Elastigroup leverages historical data and prediction algorithms to identify and predict VMs that are about to be "interrupted". Prior to termination, Elastigroup automatically and seamlessly transitions applications to the least expensive "available" Instances with absolutely no downtime regardless of application type or demand.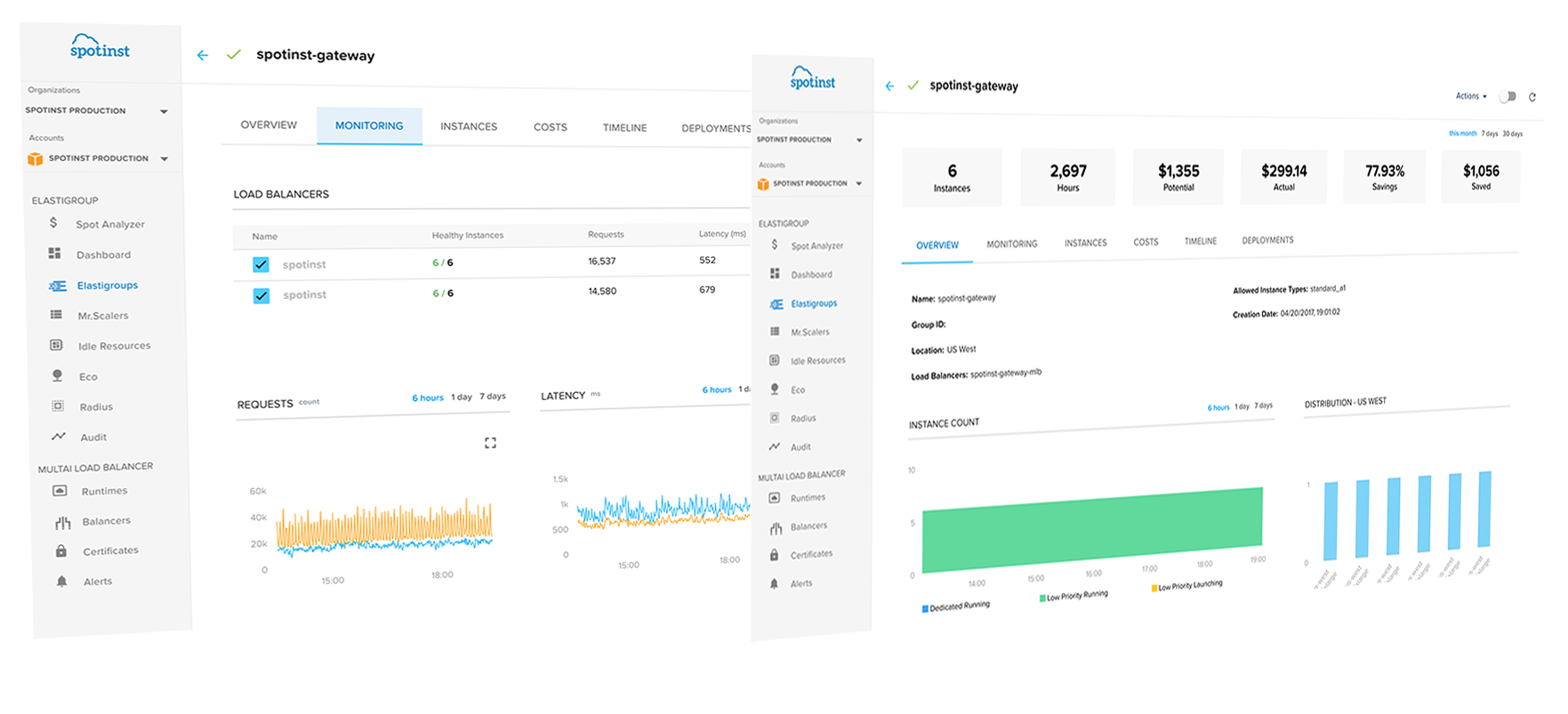 Web Services Behind Load Balancers
Application Layers Java / Ruby / Node / Python
Ad-Tech AutoScaling Environments
Database caches Memcached, Redis, Lucene
Hadoop & Spark Jobs
Custom HPC Clusters
Always Available
Elastigroup is designed to fallback to On-Demand (Dedicated) VMs in the relatively rare scenario when spare capacity cannot meet the requirement of Low-priority VMs and will opportunistically revert back to Low-priority VMs when appropriate. If the algorithm predicts an interruption, Elastigroup will pre-emptively provision a new VM prior to the termination.
Supports a Wide Variety of Workloads
From a Single Instance Workload to managing Web Applications, Containers, CI/CD environments (Jenkins), NoSQL Databases and BigData Clusters.
Auto Scaling Engine
Elastigroup adds auto-scaling functionality to maintain application availability and allows you to scale your Azure VM capacity up or down automatically according to conditions you define such as CPU and Memory or any other custom metric.
Delivering the Perfect Balance
Elastigroup has the intelligence to balance between different Azure purchasing options, to achieve the proper balance between Cost, Performance and Availability.
Integrated Application Load Balancer
Elastigroup bundles a designated Load Balancer, called
Multai Load Balancer
to distribute application traffic across instances, delivering high-availability, durability while reducing compute and network costs to the bare minimum. Spotinst's Multai Load Balancer supports HTTP/1.1, HTTP/2, WebSockets, SSL Offloading, Health Checks Deep analytics alongside with sophisticated traffic routing capabilities based on HTTP Headers or requested URL Paths.
Applications Insights
Understand your application behavior and stay connected with your visitors and users by receiving phenomenal reporting from Elastigroup like Geographical distribution capturing, Operation System and Device breakdown and application response codes analytics.
Get Started For Free
14-day trial of immediate optimization to your account.
Start A Free Trial
Request A Demo
We'll answer your questions and explore your needs in depth.
Contact Us