Reading Time:
5
minutes
These days, there's a lot of talk about FinOps — the practice of cloud financial operations. FinOps is a methodology that helps organizations align their cloud investment with their business strategy and promote accountability for cloud spend across teams. However, just as there's more information about how to manage your cloud finances, there are also a lot of FinOps myths that organizations should be aware of. 
According to our 2022 Cloud Infrastructure Report, many organizations believe that FinOps is a vital practice, yet few have implemented one. Of enterprise respondents, 96% said that FinOps is important to their organization's cloud strategy, yet just 10% have a mature FinOps practice in place.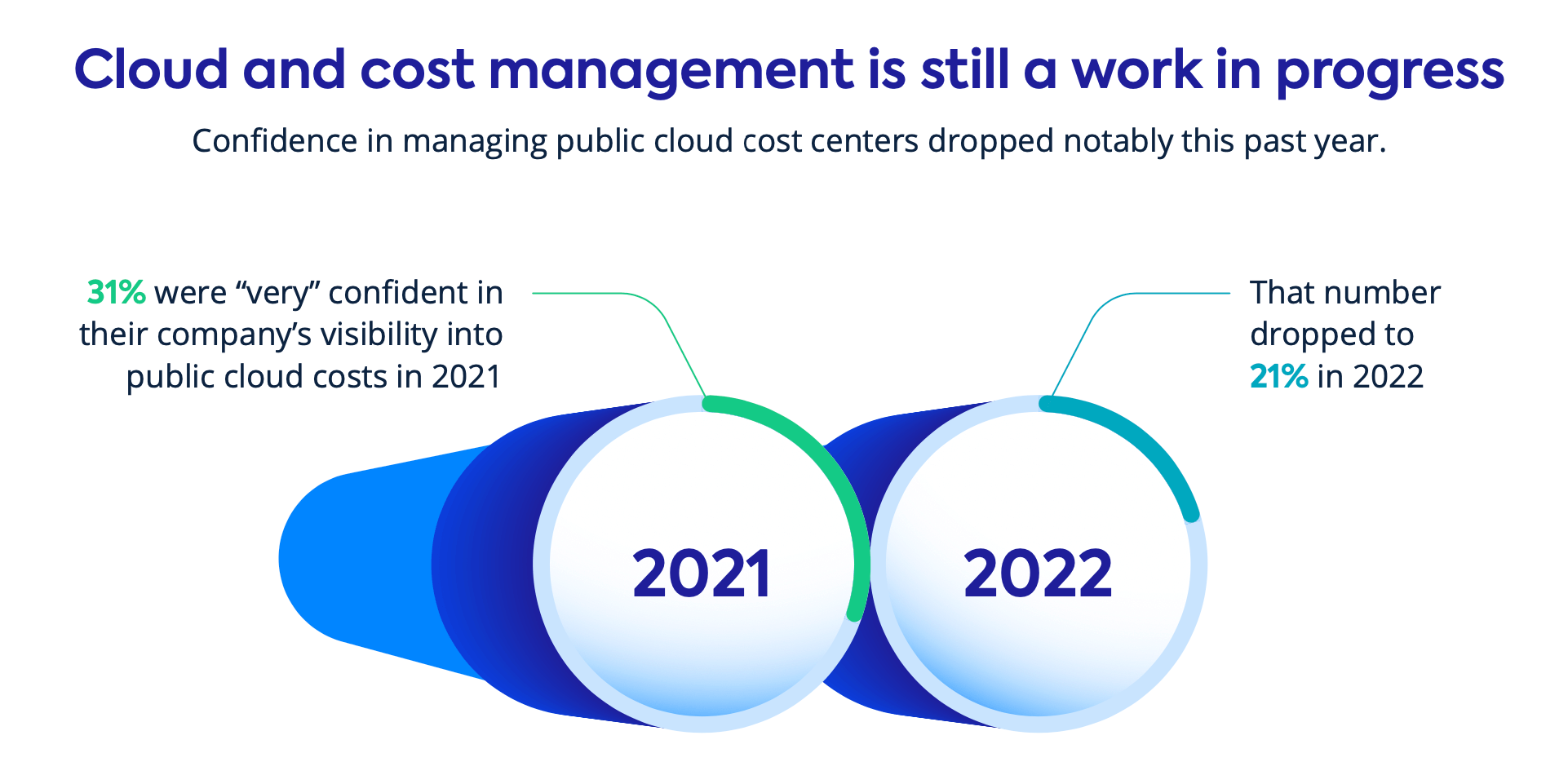 This comes at a time when organizations struggle with managing their cloud costs. In 2022, just 21% said they were "very confident" in their visibility into their cloud costs — down 10% from the year prior. 
There's no time like the present when it comes to controlling cloud costs. Yet so many organizations are putting them off, often due to a perceived lack of resources. If you find yourself using the excuses below, know that these aren't obstacles that have to stand in the way of developing a FinOps practice. 
FinOps myths: "We can't practice FinOps because…"
1. "… We have no Cloud Center of Excellence."
A Cloud Center of Excellence (CCoE) is a cross-functional team in an organization that develops and manages cloud strategy, governance, and best practices. They lead the rest of the organization in cloud adoption, migrations, and operations. 
A CCoE may be the group that manages cloud finances in some organizations, but it's not necessary for all companies to have one. In fact, according to our 2022 Cloud Infrastructure Report, just 17% of organizations actually have a formal CCoE. And although a company might have a CCoE or a group that functions like one, they may not be well-versed in FinOps, as it is a new discipline.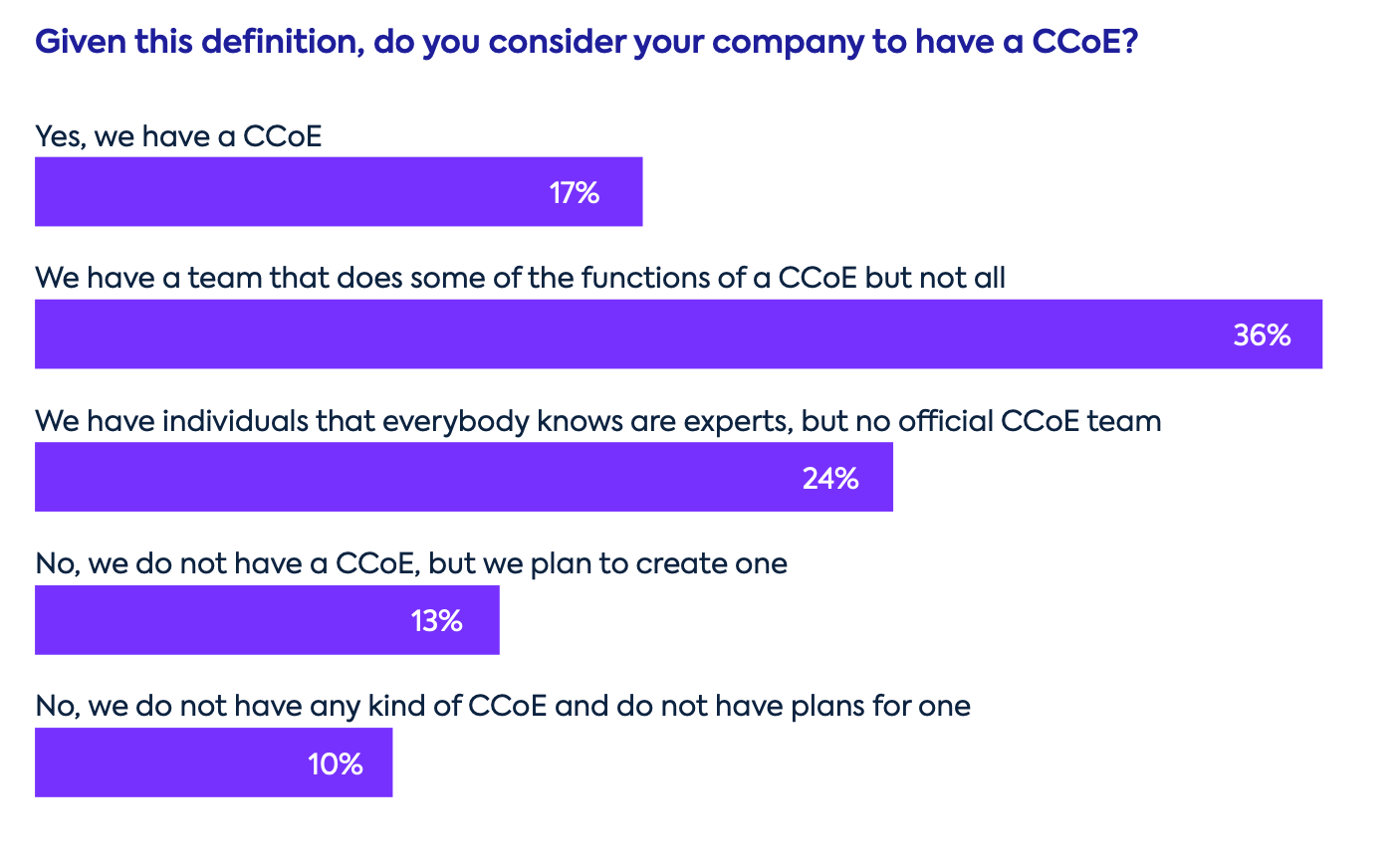 These kinds of cross-functional groups are important for managing and optimizing your cloud spend. Ideally, you would want stakeholders from finance and IT to collaborate on a FinOps initiative. However, they do not have to take the form of a CCoE to be effective. 
2. "… We don't have the right personnel."
Just as you don't need a CCoE to effectively manage your cloud, you don't need to have everyone with specific job titles and certifications to practice FinOps. (Although those things can help!) 
Of enterprises in our 2022 Cloud Infrastructure Report, 24% said that while they have no CCoE, they do have individuals who are known as experts within their organizations. While you may not have employees who are certified in FinOps (yet), they can still lend their expertise in cloud management and/or finance to your FinOps effort. 
You might also examine external resources as well. Many organizations use managed service providers (MSPs) to help fill other crucial gaps in their cloud operations. Their knowledge of cloud cost optimization and access to higher-volume discounts often helps lower cloud spend and make it more predictable from month to month.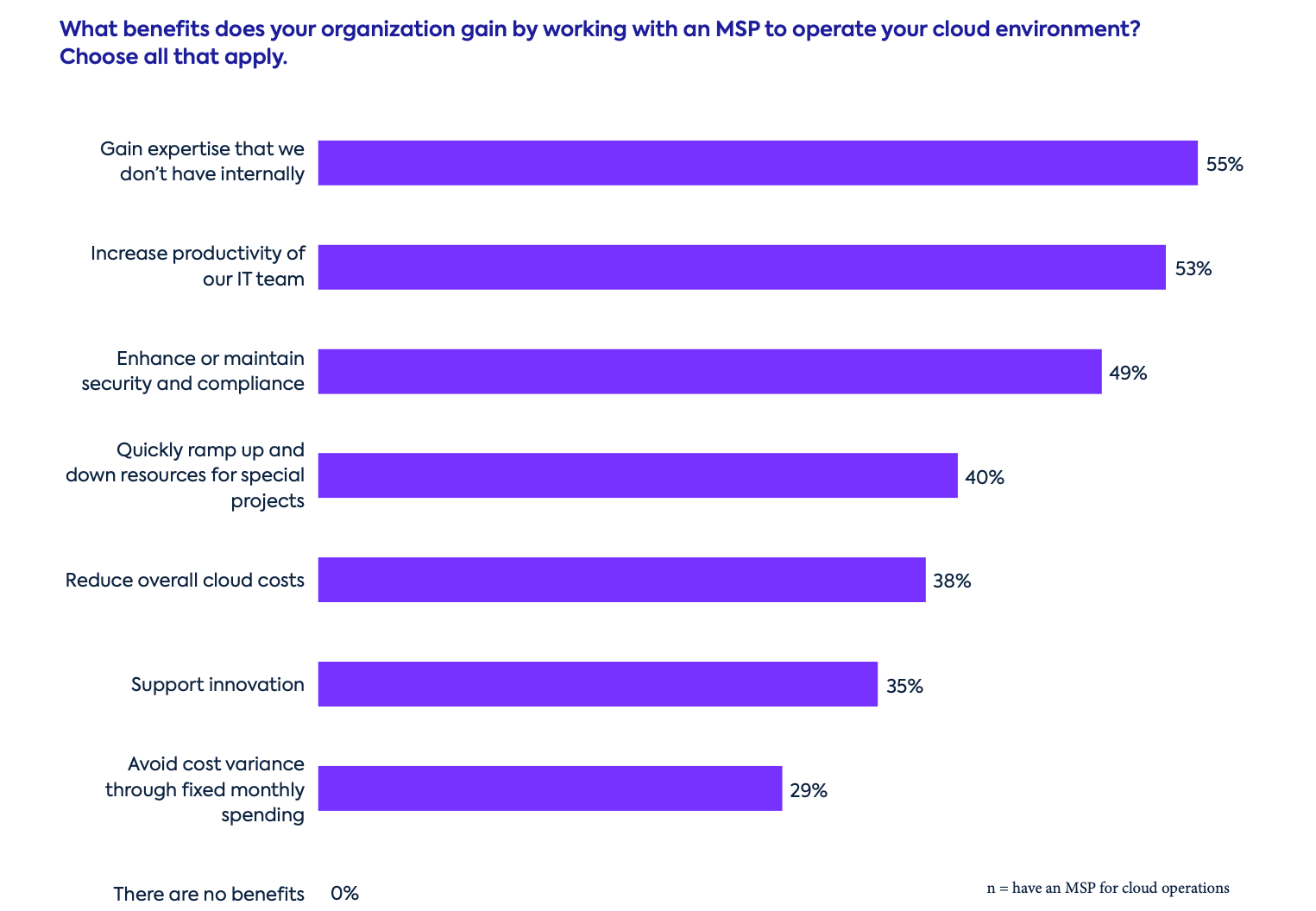 Research backs up the benefits of using an MSP to improve cloud costs and operations. A total of 55% of respondents in the 2022 Cloud Infrastructure Report who work with an MSP said that their service provider helped them gain expertise they didn't have internally, and 53% saw greater productivity in their IT department. Additionally, 29% of respondents listed fixed monthly spending as a key benefit of engaging an MSP. 
3. "… We need more training."
The cloud industry is ephemeral and changing constantly. Bridging the gap between keeping employee skill sets sharp and the latest technology and best practices is an ongoing challenge for many employers. 
Fortunately, there are plenty of resources available to help you learn about the ins and outs of FinOps. The FinOps Foundation offers free resources on its website as well as courses and certification. Spot by NetApp is a Premier member of the FinOps Foundation as part of our mission to help companies get the most out of their cloud investments through world-class CloudOps solutions. 
4. "… Our cloud spend isn't high or complex enough."
It's never too early to begin managing your cloud finances. In fact, starting small is ideal for organizations that are new to practicing FinOps. 
The FinOps Foundation has two models that can help organizations determine where they are on their FinOps journey. 
The first is the three FinOps Phases: Inform, Optimize, and Operate. Organizations may be in one or several of these phases at any given time depending on which team or business unit is on that cloud journey. 
In the

Inform

phase, organizations are focused on increasing cloud visibility, improving cost allocation, benchmarking performance, and budgeting and forecasting cloud spend.

 

In the

Optimize

phase, organizations learn how to avoid the high costs of on-demand pricing by using reserved instances and other discounts as well as evaluating their resource utilization.

 

In the

Operate

phase, organizations continuously evaluate their business objectives and metrics and ensure that they are aligned around speed, quality, and cost of cloud resources.

 
The other model is the FinOps maturity model, broken down into three steps known as Crawl, Walk, Run. This model not only helps organizations recognize where they are in their journey but gives them potential goals to achieve so that they can move on to the next level. 
5. "… We don't have the right tools."
When you begin practicing FinOps, you might quickly realize that you need more than some spreadsheets at your disposal. While not having the right tools isn't necessarily one of the FinOps myths, it's a challenge that is easier to overcome than many organizations may realize. 
FinOps is still a work in progress for many organizations, and the work never truly ends when it comes to the cloud. Yet the right resources — from training to technology — can help make the journey easier. 
A cloud management platform can help you manage costs on your own. Managed service providers also have access to cloud management tools that can optimize costs and find the right mix of reserved instances and Savings Plans. 
CloudCheckr, from Spot by NetApp, brings enterprises, managed service providers, and public sector agencies a robust cloud management platform that enables every stage of the FinOps journey. Learn why analyst firm GigaOm named Spot by NetApp a leader and outperformer in FinOps.